It somehow seems fitting to finish out the year with National Bacon Day! Bacon does really make everything better, and we have featured it in many recipes on the TEC Grills Backyard Blog through the years. So in keeping with year-end lists and wrap-ups, we thought we would share with you some of our favorite bacon recipes.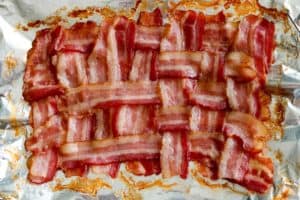 Bacon is easy to grill on your TEC Grill, and adds an extra smoky flavor to the meat. While you can use our Commercial-style Griddle accessory to cook the bacon, just like in your favorite diner. But did you know that you can cook bacon directly on the grates of your grill too? The radiant glass panels sit right below the grates decreasing the amount of airflow, and protecting the burners and flame. So there is less chance for flare-ups from the grease reaching the flame. Just be sure to wipe off excess fat from the glass panels after cooking, and do not let grease accumulate on the panels.
Pork wrapped in pork? Um, yes please! This recipe features a bacon weaved pork tenderloin that is smoked using our Infrared Smoker/Roaster accessory, and has been one of our most popular recipes ever. In addition to looking really cool, it actually helps the bacon stay wrapped on the pork tenderloin and not curl up. Pre-cooking the bacon weave helps the inside of the bacon to be a little crispier, and not so gummy and chewy too.
For a really great tutorial on how to create a bacon weave, check out this Grillin' Fools blog post.

These are not your usual backyard BBQ hot dogs! We start with a bacon-wrapped Italian sausage, and then top it with a pineapple salsa, chili garlic ketchup and gooey Mozzarella cheese. It's sweet, spicy, savory and full of bacon flavor! Bonus is that this recipe comes together quickly, especially if you make the salsa and ketchup ahead of time. It's perfect for a weeknight when that hot dog craving hits!

We featured this recipe as the answer to your sweet and salty Easter candy dreams. But there's no reason that you can't make Bacon Candy year-round! The recipe has just three ingredients, and works wonderfully with thick butcher's cut bacon. The better the quality of your bacon, the better it will taste.
When making bacon candy, though, it is best to use a wire rack set on top of a foil lined baking sheet. Because of the amount of sugar on the bacon, this will prevent the sugar from making a burnt sugar sticky mess on the glass plate of your TEC Infrared Grill.

Our blog for Grilled Pork Belly is one of the most searched for recipes on the TEC Grills Backyard Blog! We start with a slab of fresh pork belly, and then brine it for a day or two. Next we smoke it in a cloud of beer steam. Finally, we lacquer it with two different glazes, and grill it until the skin is crispy and golden brown. The pork belly is great on its own, but can also be chopped up for tacos, steamed buns, sandwiches or pretty much any other recipe that calls for thick-cut bacon. You really must try it to believe how good it is!

We grill A LOT of burgers, and have created many burger recipes through the years. But this is THE burger recipe that everyone always requests when we fire up the grill! TEC Grills is located in Columbia, SC, the heart of the South. So we took that favorite Southern recipe, homemade Pimento Cheese, and topped a beef patty with the cheese, bacon crumbles, and jalapeno to create the ultimate cheeseburger. We like to serve these as little sliders nestled in mini potato rolls, but we're warning you! You won't be able to eat just one…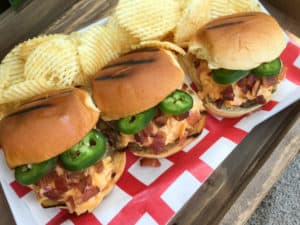 What's your favorite bacon recipe? Share with us by tagging your grilling pics @TECGrills!