What is the best kind of candy to find in your Easter basket this year? Bacon candy! Forget the chocolate bunnies, and instead treat your favorite griller to this smoky, sweet, salty, and delicious treat! Bacon candy is just bacon that is cooked with a little extra sugar, making it an easy thing to throw on your TEC Infrared Grill the next time you are grilling.
You only need 3 ingredients to make bacon candy, so you want to be sure the quality of your ingredients is top notch. Most recipes call for just brown sugar, but the addition of a little maple syrup brushed onto the bacon while grilling adds a little more depth of flavor.
As for the bacon, make sure you get the best thick cut bacon you can afford, preferably all-natural bacon. Most grocery stores carry this now, but you can also look in your local butcher shop. Or you can even order online from some of the best bacon producers, like Nueske's, Vanderose Farms, or D'Artagnan.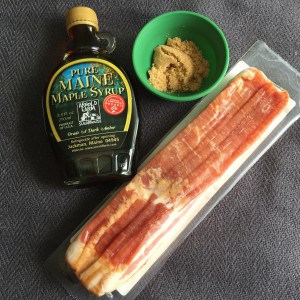 One of the many great features of a TEC Infrared Grill is that you can cook bacon directly on the grill grates. Because the glass plate is so close to the grates, there is less airflow and thus less chance of flare-ups from the bacon grease.
When making bacon candy, though, it is best to use a wire rack set on top of a foil lined baking sheet. Because of the amount of sugar on the bacon, this will prevent the sugar from making a burnt sugar sticky mess on the glass plate of your TEC Infrared Grill.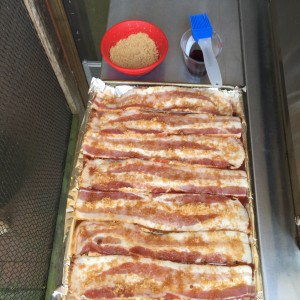 Simply lay the strips of bacon on the wire rack, and sprinkle with about a quarter of the brown sugar mixture. When the sugar starts to caramelize, brush with some of the maple syrup and flip. Sprinkle with another quarter of the brown sugar. Flip the bacon two more times, brushing with the syrup every time before you flip. You want the bacon to be crispy at the edges, and firm through the middle but still pliable. Just keep a watch on the bacon, as it can burn quickly with all that sugar! After about 30 minutes, you will have a delicious addictive candy that may not last until Easter!