We get it, sometimes getting supper on the table can be the most difficult task of the day! So the next time you need an easy, quick and delicious meal in a hurry, reach for your TEC Grills Infrared Grill Tray to make a "One Grill Tray Supper".
Sheet pan suppers are becoming increasingly popular because of their ease and convenience. Throw everything onto a sheet pan, toss into the oven, and in just a little while dinner is ready. It also means cleanup is easy too because you don't have a lot of dishes at the end of the night.
We've taken this idea one step further by using our Infrared Grill Tray as our sheet pan, so you get the bonus of delicious char-broiled flavor with no extra effort. Constructed of the same high-quality, durable stainless steel as our grills, the Infrared Grill Tray uses infrared heat to keep your food moist and juicy. Plus, you can keep the mess completely out of the kitchen.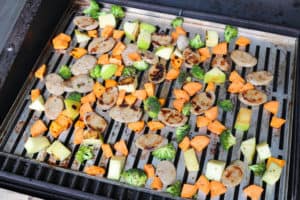 The Infrared Grill Tray is designed to be used on top of our Infrared Smoker/Roaster, Gator Rack, and Infrared Pizza Oven Rack; you can also place it directly on the grates of your grill. This thinly-slotted tray allows you to cook vegetables, shellfish, and other small food items that would otherwise fall through the larger openings of our other accessories or grill grates. Keep a spare one clean because it's also perfect for grilling biscuits.
TIPS FOR MAKING "ONE GRILL TRAY SUPPERS" WITH THE INFRARED GRILL TRAY
-Preheat with the Infrared Grill Tray in place, and the hood closed. We recommend placing the Grill Tray directly on the grates of your grill, but you can also place it on top of your Infrared Smoker/Roaster too. Just be sure to remove the radiant drip tray in this case.
-Be sure to cut your food into pieces according to how long it will take to cook. That is, things that will take longer to cook, like sweet potatoes, should be cut into smaller pieces. Quick-cooking or already cooked foods should be cut into larger pieces or added at the end of grilling.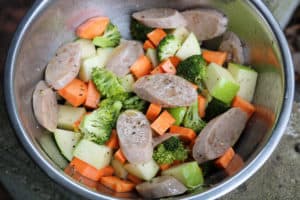 -Use pre-cooked sausages or cut meat into thin strips or small pieces, so that they cook at the same rate as your vegetables and fruits.
-Toss your meats, vegetables and fruit with canola or olive oil to promote browning and prevent sticking.
-Sprinkle your favorite rub or seasoning all over to add extra flavor to your foods while grilling.
-Add extra flavor by tossing whole sprigs of your favorite fresh herbs on top while grilling. Try hardy herbs, like fresh rosemary, thyme or oregano.
-You can add mouthwatering smoky flavor by adding your favorite chips to the chip corral when using the Grill Tray on top of the Smoker/Roaster.
-At the end of grilling, drizzle a flavored vinegar or thin marinade over the entire meal. It will incinerate on the radiant glass panels and envelope your food with even more flavor. See the video below to see this in action!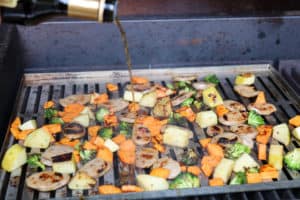 -But if you want to add a thicker sauce, like for a stir-fry, it's best to add it at the end. Remove the meat or vegetables from the grill, and toss it with your favorite warm sauce.
Here's one of our favorite "One Grill Tray Supper" recipes that would be perfect for those busy weekday nights.
SWEET POTATO, APPLE AND CHICKEN SAUSAGE WITH BALSAMIC AND THYME
2 small sweet potatoes, small dice
2 green apples, large dice
1 pound chicken sausage, cut into rounds
1/2 pound broccoli florets, cut into bite-size pieces
4-5 sprigs fresh thyme
About 1/4 cup olive oil
Balsamic Vinegar
Preheat your TEC Grill with the Infrared Grill Tray on medium-high heat for 10 minutes. We suggest placing the Infrared Grill Tray directly on the grill grates.

Combine the sweet potatoes, apples, chicken sausage and broccoli in a large mixing bowl.

Toss with just enough olive oil to lightly coat the meat and vegetables. Season with salt and pepper to taste.

When the grill and tray are hot, lay out the meat and vegetables in a single layer on the Infrared Grill Tray. Top with the sprigs of thyme.

Let the food grill for about 3-5 minutes, then use a spatula to gently toss the food on the grill tray. Continue grilling until sweet potato is tender, about another 3-5 minutes.
For more tips and recipe ideas, read all about the Infrared Grill Tray here. And be sure to share with us how adventurous you get by tagging your grilling pictures with @TECGrills!