Kick off the summer grilling season with these "beyond the bun" burger recipes for breakfast, lunch and dinner on your TEC Grill!

This year, instead of grilling the typical beef patty try something different like lamb, pork, or even fish and shrimp. And for what to use to hold the patty, think outside the bun and try things like brioche bread, pita, and even waffles!
Grilling burgers on your TEC Grill is the same no matter what variety of burger you make:
Preheat grill according to the recipe and type of burger.

Have all ingredients, including burger patties and buns, ready to go.

Place burgers on the grill, and cook until desired temperature (usually anywhere from 3-5 minutes for sliders, to 8-10 minutes for full size patties). Beef and lamb is best cooked to medium-rare or medium to stay the juiciest, while pork, chicken and fish you want to cook all the way through.

Add cheese or toppings to the burgers after you flip them over.

Brush buns, bread, waffles or pita with a little oil or butter, and grill until lightly toasted and browned.

Pull off the grill, and dress with one of our suggestions below.
If you have our Griddle accessory, you can also griddle more delicate burgers such as the breakfast or shrimp burgers.  It helps hold them together better, and adds more of a fast food flavor.
SAUSAGE, EGG AND CHEESE BREAKFAST SLIDERS ON WAFFLE BUNS
Who says burgers are just for lunch or dinner? A breakfast sandwich has all of the same key ingredients of a great burger, that is, meat, cheese and bread. But instead of your usual toast, biscuit or bagel, try sandwiching your sausage burger between two waffles!

The type of waffle doesn't really matter for your burger. But what does matter is the texture and crispiness, so whether you choose Belgian waffles or regular waffles go with one that isn't too crispy or over toasted. The waffle needs to flex a bit so you can get a good bite. Add butter and syrup too if you're a fan of sweet and salty flavors. You can toast the waffles on the TEC Infrared Grill Tray while the sausage is grilling.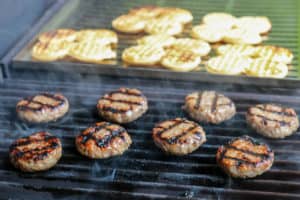 It's also up to you about what type of meat to use. You certainly can't go wrong with a regular beef patty. But to make it feel even more like Sunday brunch, try using round mildly seasoned breakfast sausage patties, grilled or griddled.
After pulling the burgers off the TEC Grill, here's the assembly to make 8 sliders…
8 round breakfast sausage patties
1 box mini waffles
2 slices cheddar cheese, cut into quarters
4 eggs, scrambled and cut into 8 pieces
4 slices cooked bacon, cut in half
Syrup
Grill the sausage patties on medium heat until cooked through, about 8-10 minutes.

In the last few minutes of cooking, add the waffles to the grill or place on top of the Infrared Grill Tray. Grill just until lightly browned and toasted. Remove waffles and sausage from the grill.

Spread butter on one side of two mini waffles.

Place one waffle on a plate, butter side up.

Top with the patty, cheddar cheese, a piece of fried egg and a half slice of bacon.

Top with the second waffle, butter side down. Serve with a side of syrup.
LAMB PITA BURGERS WITH YOGURT MINT SAUCE
This burger is unique in that you cook the lamb at the same time as you grill the pita. The lamb is sandwiched inside the pita, and the juices and fat from the lamb will soak into the pita and make it even crispier and seriously finger-licking delicious!

This recipe is easy to multiply if you're cooking for a crowd. Just cut each burger into four quarters, and pile onto a tray for easy eating. After pulling the lamb pita burgers off the grill, serve with the yogurt mint sauce and a cucumber feta salad.

Makes 4 burgers
1/2 small yellow onion, finely chopped
1/4 cup fresh Italian parsley, chopped
1/4 cup fresh mint, chopped
1 tablespoon ground coriander
1 tablespoon ground cumin
1 teaspoon smoked paprika
1 teaspoon salt
1 teaspoon lemon pepper
1/2 teaspoon ground cinnamon
1 pound ground lamb<
4 round pita bread pockets
Combine all ingredients, except lamb and pita, in a large mixing bowl.

Add lamb to the bowl, and gently fold to combine. Do not over mix the lamb!

Cut pita pockets in half along the seam about halfway around the pita using a knife or kitchen shears. Spoon the lamb mixture into the pockets, and carefully spread to about 1/2-inch thick. Press at the open end to seal shut.

Preheat grill on medium-low heat for 10 minutes.

Grill pitas until lamb is cooked and pita is toasted and crispy, about 5 minutes on each side. Serve immediately.
YOGURT MINT SAUCE
1/2 cup plain Greek yogurt
1/4 cup fresh mint, leaves picked off stems
1 tablespoon tahini
1 tablespoon fresh lemon juice
1 tablespoon extra virgin olive oil
1 clove garlic, minced or pressed
Stir together all ingredients in a small bowl. Season with salt and pepper.
THAI SHRIMP BURGERS WITH GRILLED CABBAGE ON BRIOCHE BUNS
This recipe might look like a lot of ingredients, but the shrimp burgers come together very quickly and easily. Don't skip the fish sauce as it adds depth to the flavor of the burger.

Brioche buns are richer, fluffier, and a tad sweeter than traditional hamburger buns. When paired with the natural sweetness of shrimp and the fresh herbs, this is definitely not your typical burger!
Makes about 4 burgers
1 pound raw shrimp, peeled, deveined and roughly chopped
1/2 sweet onion, finely chopped
1/4 cup bread crumbs
1 1-inch piece of fresh ginger, peeled and grated
1 clove garlic, peeled and grated
2 tablespoons, plus 1/2 cup, mayonnaise
2 tablespoons chives, roughly choped
1 tablespoon fish sauce
1 tablespoon lime juice
2 teaspoons salt
2 teaspoons pepper
1/4 cup Thai chili-garlic sauce
1/2 head purple cabbage, sliced into "steaks"
Olive oil
Brioche buns
Fresh basil
Fresh cilantro
Place shrimp, onion, bread crumbs, ginger, garlic, 2 tablespoons mayonnaise, chives, fish sauce, lime juice, salt and pepper in the bowl of a food processor, and pulse until shrimp are finely chopped and mixture comes together. Add additional lime juice if mixture is too thick.

Remove mixture from food processor, and carefully form into patties on a plate. Set in refrigerator to firm up until ready to grill, about 15 minutes.

Mix together the 1/2 cup of mayonnaise and chili-garlic sauce in a small bowl, and set aside.

When ready to grill, remove shrimp burgers from the refrigerator. Preheat grill on medium heat, or griddle on medium-low heat.

Drizzle cabbage steaks with a little olive oil, and season with salt and pepper.

Grill cabbage and shrimp burgers until cabbage is charred and wilted, and burgers are just cooked through.

In the last few minutes of grilling the burgers, brush the brioche buns with a little more olive oil, and grill just until lightly toasted. Remove everything from the grill.

Serve the shrimp burgers on the brioche buns, garnished with the grilled cabbage, chili-garlic mayonnaise, and lots of fresh basil and cilantro.
For more TEC burger recipes, check out these Spicy Burger recipes and these Memorial Day Burger recipes. What's your favorite burger recipe? Share with us by tagging your pictures with @tecgrills.