A patty of ground meat on a bun, aka a hamburger, is an American classic. Whether you like it with cheese, loaded with condiments, stuffed with bacon, or just plain, burgers are one of the easiest and tastiest recipes to make at home on your TEC Grill. They are perfect for one person since they come by default in a single-serve portion, or you can load up your TEC Grill with burgers from end to end to feed a large crowd.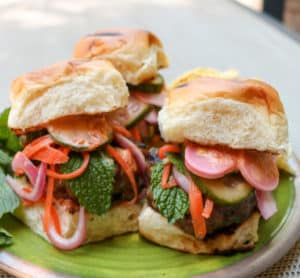 May is National Burger Month, so there is no better time to put burgers on your menu. It gives you an excuse to eat them all month long, and for every occasion! But instead of your usual burger recipe, why not try spicing things up? All of our burger recipes below have a seasoning, sauce, or condiment guaranteed to bring a little heat to your next backyard gathering. Just remember to have plenty of ice cold beer on hand to help quench the fire!
Grilling burgers on your TEC Grill is the same no matter what variety of burger you make:
Preheat grill on medium heat.

Have all ingredients, including burger patties and buns, ready to go.

Place burgers on the grill, and cook until desired temperature (usually anywhere from 3-5 minutes for sliders, to 8-10 minutes for full size patties). Beef is best cooked to medium-rare or medium to stay the juiciest, while pork, chicken and fish you want to cook all the way through.

Add cheese or toppings to the burgers after you flip them over.

Brush buns with a little oil or butter, and grill until lightly toasted and browned.

Pull off the grill, and dress with one of our suggestions below.
If you have our Commercial-style Griddle accessory, you can also griddle more delicate burgers, such as chicken or fish burgers. It helps hold them together better, as well as adds more of a fast food flavor.
---
BUFFALO BISON BURGERS WITH ONION RINGS AND BLUE CHEESE DRESSING
Ground bison meat is actually a healthier and more environmentally friendly option than ground beef. It is leaner than beef, and has lower amounts of fat, calories, and cholesterol, while having more protein and higher amounts of vitamins and minerals.
Adding "buffalo" sauce to the ground bison mixture is a fun play off of buffalo chicken wings. The blue cheese dressing cools off the heat of the sauce, while the onion rings add some crunch. These are best served on a hearty pretzel bun or roll to soak up all the juices!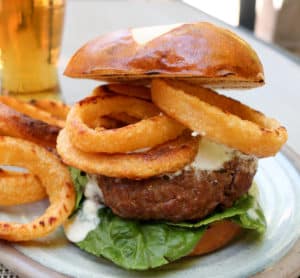 After pulling the bison burgers off the TEC Grill, here's the assembly:
-Place a leaf or two of romaine lettuce on the bottom half of a grilled bun.
-Top with a bison patty.
-Drizzle on some blue cheese dressing, as much as you like. For an easy home-made blue cheese dressing recipe, check this one from Food.com.
-Splash on more hot sauce if desired.
-Add a couple of grilled or baked onion rings, and close with the top half of the grilled bun.
---
FAJITA LIME CHICKEN BURGERS WITH JALAPENO GUACAMOLE AND ESCABECHE
This burger has all the flavors usually found in your favorite platter of sizzling fajitas! Coating the chicken burgers with lime juice, and then dipping in fajita spice adds lots of flavor to typically bland ground chicken. It also helps to give the burgers a delicious caramelized brown crust. These burgers definitely pack a little heat, both from the fresh jalapeno and tangy sour cream guacamole, as well as the pickled jalapeno and vegetable garnish.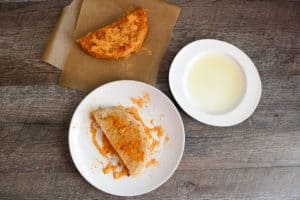 If you can find Mexican torta rolls, that would definitely be the best bread for this burger. These rolls are usually flat ovals of chewy bread, perfect for putting on the grill. Look for rolls that are labeled: talera, bolillo, pan frances, or even Cuban bread would work too. Since the bread is more oval in shape, cut your round patties in half and stack together before grilling to better fit the bun.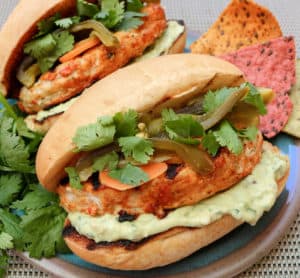 After pulling the chicken burgers and buns off the TEC Grill, here's the assembly:
-Place a chicken patty on the bottom half of a grilled bun.
-Top with a spoonful of the spicy jalapeno and sour cream guacamole. To make this, simply mix together mashed avocado with a little sour cream, along with chopped jalapeno, lime juice, and cilantro.
-Layer on some pickled jalapenos and vegetables (aka, escabeche), and garnish with fresh cilantro.
---
LEMONGRASS PORK SLIDERS WITH CHILI GARLIC MAYONNAISE AND CUCUMBER CARROT PICKLES
Herbal, spicy, creamy, and tangy, these burgers have so many complex flavors going on all together, that they would be best served as little three-bite sliders. We suggest putting them on sweet Hawaiian rolls to balance out the richness. Or serve these burgers in a lettuce wrap for a fresher tasting alternative.
Lemongrass is a woody stalk that needs to be finely chopped before adding to the pork mixture. To add even more flavor while grilling, throw a stalk or two of the lemongrass onto the grill to infuse the smoke with its delicate lemony essence. Below is the recipe for the pork burger mixture.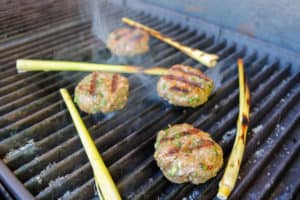 After pulling the pork sliders and buns off the TEC Grill, here's the assembly:
-Spread some chili-garlic mayonnaise on the both halves of the bun. To make this, combine mayonnaise with spicy chili garlic sauce.
-Place a pork patty on the bottom half of a grilled bun.
-Close it with the top half of the bun.
Lemongrass Pork Burgers
1 pound ground pork
2 stalks lemongrass, peeled down to the  soft core and finely chopped
2 shallots, finely minced
1 1-inch piece of fresh ginger, peeled and grated
1 clove garlic, peeled and grated
2 tablespoons fish sauce
1 tablespoon soy sauce
1 tablespoon lime juice
1 tablespoon lime zest
2 teaspoons salt
2 teaspoons pepper
1 teaspoon ground coriander
1 teaspoon red pepper flakes
1/2 teaspoon ground cinnamon
Gently mix all ingredients together in a large mixing bowl until well combined. Form into small slider patties, and place in refrigerator until ready to grill.
What's your favorite burger recipe? Share with us by commenting below, or tagging your pictures with @tecgrills.