Without a doubt, pizza is one of America's favorite foods, and it comes in so many sizes, shapes and styles. From deep dish to Neapolitan to Detroit style, it's so hard to choose a favorite. But in the end, everyone has their favorite slice. So what is your favorite kind of pizza?
No matter the style, at TEC Grills we obviously prefer our pizza hot and bubbly right off the grill. Our Infrared Pizza Oven Rack accessory, available for the Patio or Sterling Patio, turns your grill into an infrared pizza oven that will turn out pizzas just like you get from your favorite pizzeria.
What makes the TEC Infrared Pizza Oven Rack so unique is our 100% infrared heat. We discovered that infrared heat makes a pizza crust crisp but does not dry it out. Our 304 stainless steel, infrared rack raises the cooking surface of the pizza above the grates to slow down the cooking process so that the crust and top of the pizza cook evenly. The large open area of our perforated cooking surface allows the maximum amount of infrared heat to reach the food, which results in the outside getting nice and crispy while the inside stays moist and juicy.
So the next time you have family pizza night in your house, give one of these pizzas a try. And let us know which one you like the best!
DETROIT OR SICILIAN
Detroit or Sicilian pizza is best known for its square shaped slices. Typically made in deep rectangular sheet pans, it is a type of deep dish pizza. Tomato sauce is typically placed on top of the cheese to be sure the crust cooks through. Detroit style takes it one step further with the pizza being baked in super-hot blue steel pans which create an even crispier crust, and cheese loaded to the edges that melts to create caramelized cheesy bits.

To make this kind of pizza on your TEC Grill, just place the pan on top of the Infrared Pizza Oven Rack and close the hood to be sure the heat melts the toppings and cooks the crust. Another trick is to add the sauce right at the end of cooking to be sure the crust is crispy and cooked.
CALIFORNIA
The signature of a California pizza is the unique and creative toppings. Originating in the San Francisco area of northern California, the most famous version is a BBQ chicken pizza. But there are as many versions of California pizza as there are chefs! With ingredients ranging from smoked salmon to farm eggs to goat cheese, toppings are only limited by your imagination.
This creation is a white pizza (meaning no sauce), with sautéed spinach, cilantro and ricotta cheese.

NEAPOLITAN
Neapolitan pizza has quickly spread across the country, with wood burning ovens popping up all over the country. The toppings are usually simple and straightforward, usually just a light brush of tomato sauce, fresh mozzarella cheese and fresh basil or other vegetables.
But the secret to a great Neapolitan pizza is really the dough. Similar to bread, the dough is allowed to ferment slowly over days to create that signature crust. The infrared heat of your TEC Grill is particularly well suited for this kind of dough, since the outside will be crispy, while the inside will be light and airy.
There are many recipes for authentic Neapolitan pizza dough. But we are partial to the one from the Spruce Eats. Note that they call for Italian "00" flour, but bread flour works well in this recipe too.
DEEP DISH
With a thick crust, deep dish pizza pie is characteristic of the pizzerias of Chicago. There is nothing subtle about deep dish. It has meat and cheese piled high on a thick doughy crust, and usually measuring one to two inches thick.
We find deep dish pizzas to be easier to manage as mini individual pizzas. They won't take as long to cook, and it is a more manageable portion. But a knife and fork may still be required!

FLATBREAD
Why limit your pizza options to just dough? You can make pizza on any kind of bread, and flatbreads in particular work so well on your TEC Grill. Try pita bread, naan, lavash, or even a cauliflower crust as the base of the pizza. The best part is that these breads are already cooked, so you just need to crisp the crust and melt the toppings. That makes them perfect for the Infrared Pizza Oven Rack.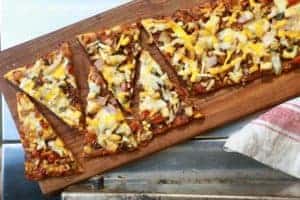 For topping ideas, how about one of these combinations:
-Mushrooms, caramelized onions, and gruyere cheese
-Bacon, Brussels sprouts, and balsamic glaze
-Spinach, artichoke hearts, and Romano cheese
-Chicken, red pepper, red onion, and cheddar
What's your favorite kind of pizza? Share with us by tagging your pics @tecgrills.