Why go out to eat on Valentine's Day, when you can turn your TEC Infrared Grill into a Japanese teppanyaki grill/griddle, just like at your favorite steak house?
Many couples like to go out to a restaurant on Valentine's Day. But it is really one of the worst days to go out to eat! It's hard to get a reservation, and if you do, restaurants are crowded, the food is typically over-priced for the occasion, and the staff is so stressed because they are so busy.
So skip going out this year, and instead make your sweetie an amazing steak and shrimp dinner inspired by a Japanese steak house. The best part is that you can cook everything on your TEC Infrared Grill using the grill itself and our Commercial-style Griddle accessory. Bonus points if you can flip the shrimp onto a plate, your date will be super impressed!
The key to this menu is to make it in courses. You just need to have your prep done in advance for each course. But once that is ready, each course will come together very quickly.
Appetizer Course
Start the meal with an easy appetizer. This gives you and your date something to munch on while you finalize the prep for the rest of the meal.
Griddle some gyoza (also known as potstickers), and serve with sake. Either make your own gyoza (great how-to here) or buy some pre-made at a good Asian market.
Or you can make a simple Japanese green salad made with crisp iceberg or romaine lettuce, and serve it with a homemade ginger dressing. Here is a classic recipe from Saveur.
Entrée Course
For the entrée, go with the classic teppanyaki surf and turf combo of grilled steak and shrimp, served over griddled vegetable fried rice.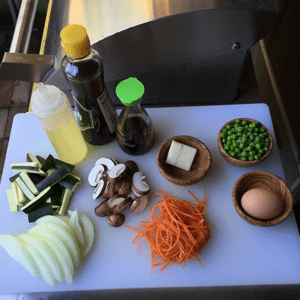 Make the fried rice first because it will keep warm on the griddle while you grill the steak.
Vegetable Fried Rice
Author:
Ingredients
Canola or vegetable oil
1 egg
1/2 small onion, sliced
1/2 cup mushrooms, sliced
1 small zucchini, cut into thin strips
1 small carrot, julienne
1/4 cup frozen peas
1 cup cooked white rice (preferably a short-grain rice)
2-3 tablespoons soy sauce
1 tablespoon unsalted butter
1 teaspoon sesame oil
Sesame seeds
Instructions
Preheat your TEC Infrared Grill over medium heat with the griddle accessory on top of the grates.
When the griddle is hot, add just enough canola oil to lightly coat the griddle.
Crack the egg onto the hot griddle. Use spatula to break up the egg, and stir it until egg is cooked through. Use spatula to cut the egg into small pieces. Place egg in a small bowl and set aside.
Add the onion and mushrooms to the griddle, and stir-fry until lightly browned and softened.
Add the zucchini and carrot to the griddle, and continue stir-frying until the zucchini just starts to soften.
Add the peas and rice to the vegetables, and toss to combine.
Add the soy sauce, butter, and sesame oil to the vegetable rice, and continue stir-frying until rice is heated through.
Add the egg to the vegetable rice, and stir to combine. Turn heat down to low to keep the rice warm while you grill the steak.
When ready to serve, garnish with sesame seeds.
Next grill the steak and shrimp.
Grilled Steak and Shrimp
Author:
Ingredients
1 flank or sirloin steak, about 4-6 ounces per person
Teriyaki sauce
10-12 shrimp, peeled and deveined (leave tails on if desired)
Instructions
Place steak in teriyaki sauce, and let marinate for about an hour.
Season shrimp with just salt and pepper when ready to grill.
Preheat your TEC Infrared Grill on high heat.
Remove the steak from the marinade, and place on the hot grill.
Grill about 5 minutes on the first side. Turn steak over, and add shrimp to the grill.
Grill on second side about 5 minutes more, or until desired doneness. Grill shrimp just until opaque and barely cooked through.
Remove steak and shrimp from the grill. Let steak rest for about 5 minutes before cutting against the grain.
Serve the steak and shrimp with the Japanese style white sauce, also known as "Yum Yum Sauce". A good recipe for Yum Yum sauce is here.
Dessert Course
End on a sweet note, and keep dessert simple. Here are some ideas:
Grill bananas that have been tossed with sake and brown sugar. The heat of the grill caramelizes the sugars in the banana.
Lightly grill lychees, and then serve over a slice of matcha cake or pudding. Spoon the lychee syrup over the top.
Or simply serve a scoop of green tea ice cream or a lemon sorbet. Light and refreshing after the meal.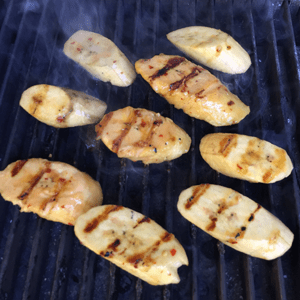 What are you doing for Valentine's Day with your sweetie? Dine in or dine out?