You really only need salt and pepper, along with a good piece of meat (or fish or vegetables), when cooking on a TEC Infrared Grill.   But a lot of folks, including the team here at TEC Infrared Grills, like to add dry rubs or some other kind of seasoning to our food when grilling. A good dry rub can add additional levels of flavor, and actually help you achieve an even better crust and browning on your grilled foods.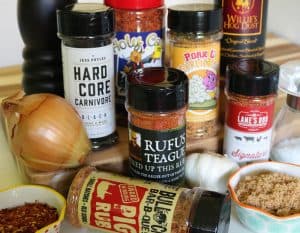 There are simple rubs that have just a few ingredients, and complex rubs that can contain up to forty or more spices and ingredients in a "secret" signature mixture that pitmasters carefully guard as their winning recipe. While you can find shelves full of rubs at the store, you can also easily make your own rub at home with some spices, and a little time experimenting to find what combination you like.   You can even use unusual ingredients like coffee grounds, fresh or dried chilies, or even curry powder (which is a blend in its own right). Start with a typical
all-purpose Dry Rub recipe
, and then make it your own.
 Rubs can be be classified as dry rubs, which are applied by evenly and generously sprinkling the rub all over the meat and pressing it gently to adhere to the meat.  Check out this great video from the BBQ Guys on how to apply a dry rub. Or rubs can be wet, which use a little sauce such as Worcestershire, vinegar, or even pickle juice as pitmaster John Lewis uses, in order to get the rub to stick to the meat.
With all of the pre-made rubs out there, it's hard to know which one to pick. So we took a stroll through the spice aisle at our favorite grocery store, and a few specialty stores as well, and picked up a number of popular rubs available. Then we brought them home, and taste tested them. We tried them on their own, and then on pork tenderloin, chicken wings, fish, and even on some zucchini squash.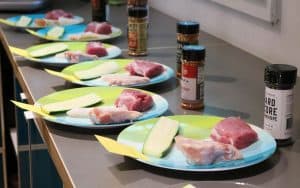 Here are the results of our taste test, in no particular order…
Overall, this recipe from Lane's is a good all around rub. It has a nice salt and pepper flavor, with just a little heat and not too sweet. It was pretty good on all of the foods we tasted, but we really liked it on the chicken wings.  The fattiness of the wings brought out more of the garlic flavor, and rounded out the rub.
Use it on: Chicken and fish to get more of the garlic flavor coming through.
Best for: When you want a lower sugar rub option.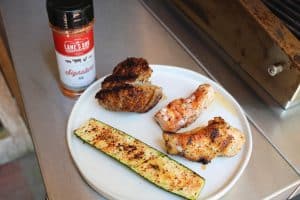 The texture of the Rufus Teague rub was a fine grind, and so it was easy to apply to the food (and bonus points for that it looked good on the food too!). The rub has a good balance of sugar and salt with a little heat. As for how it tasted, it was the hands-down favorite on the fish with a familiar Old Bay taste. It was also literally finger-licking good on the chicken and pork with a caramel-like flavor and a nice charred crust.
Use it on: Fish, chicken, pork, or likely any meat as the name of the rub implies.
Best for: A good all-around rub to use on anything.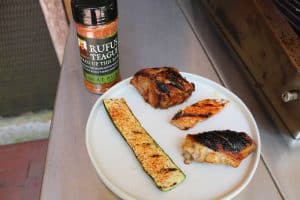 Pork U – Garlic 101
Yummy, garlic buttery flavor! Did we mention the garlic? As the name implies, this is a garlic based rub that is low in salt and sugar free. It was by far our favorite on the zucchini, where that buttery garlic flavor could shine. But it also tasted delicious on the chicken wings, and likely on any fattier cut of meat. Despite not having any sugar, it still gave the meats a nice char on the grill too.
Use it on: Vegetables, chicken, and fattier cuts of meat. The bottle suggests using it on popcorn or for garlic bread, and we can't wait to try both suggestions!
Best for: A great option for those that want a low salt, sugar free, and gluten free option that still tastes great.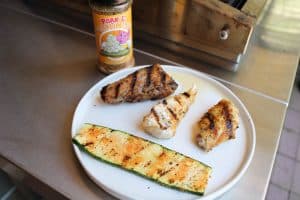 What we liked best about Willie's Hog Dust is how the flavors of the rub are so well balanced. There are sweet and salty notes up front, but a depth of other flavors too that didn't overwhelm any of the foods we tried. It was particularly tasty on chicken and pork, with good caramelization and a charred crust from the sugars in the rub. The grind of the rub is pretty fine, so it is easy to apply right before grilling.
Use it on: Chicken and pork, and probably beef too.
Best for: When you want a well-rounded rub that doesn't overwhelm your food.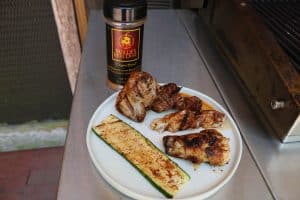 A coarser grind than the other rubs we tasted, the directions say that it should be applied to the meat up to 24 hours in advance of grilling in order to let the flavors of the rub really permeate the meat. Holy Cow has a bold black pepper flavor that gave a nice s&p kick to the zucchini, and made for a nice crust and char on the chicken wings (and likely on a nice marbled steak as well).
Use it on: Vegetables, chicken wings, steak, or any fattier or well marbled cut of meat.
Best for: Big bold pepper flavor.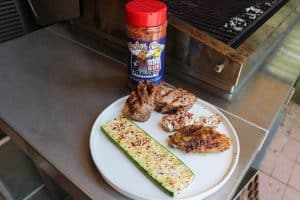 The pitch black color of this rub makes it the most unique one we taste tested. The addition of food-grade activated charcoal is the reason for the black color, and is meant to give a nice dark crust to your meats and make them more visually appealing. You can't really taste the charcoal in the rub, but instead the salt, sugar, garlic, and onion are the predominant flavors shining through. The rub gave a nice earthy sweetness to the zucchini, and a light overall onion flavor to the meats.
Use it on: Vegetables, light fish or chicken breasts.
Best for: A strong black crust on your meats, and/or a gluten free and MSG free option.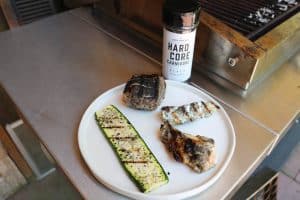 Bull City Bar-B-Que Co – Pig Rub
This was by far the spiciest rub we tasted.  It had a heavy black and red pepper flavor and just a hint of salt and garlic. Turns out, though, that the spiciness worked well on the zucchini, and gave it a nice kick. It was also good on the chicken wings, which again allowed the hint of garlic to pull through the spice.
Use it on: Vegetables and fattier cuts of meat.
Best for: When you like to spice it up!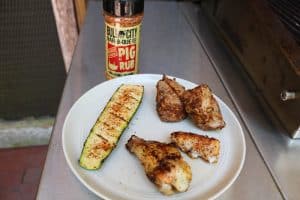 These are some of our favorites, but what's your favorite dry rub recipe?