As summer starts to wind down, it is the perfect time to host one more outdoor dinner party! Here at TEC Infrared Grills, we did just that as Chef John Militello (of Let's Cook Culinary Studio in Columbia, SC) hosted a summer dinner party cooking class at the home of Bill and Rachael Best. Global flavors were on the menu, and it was certainly not your basic steak and potatoes dinner!
The best part was that the entire meal was cooked on the grill, so there was plenty of time to spend chatting with friends and enjoying the beautiful evening (and not much to clean up at the end of the night!).
Watch the recap of the cooking class, and then see the recipes and even more TEC cooking tips below.   You can use these recipes as inspiration to host your own summer dinner party.  Or it might be just the motivation you need to get outside, grill, and enjoy these last days of summer.  And don't forget to share your TEC grill stories and pictures with us!
Seafood en Papillote
Author:
Serves:
Each packet serves two
Ingredients
1 sheet of parchment paper (about 8 in x 16 in)
2 (2-ounce) pieces of firm fleshed fish, such as salmon or mahi
6 shrimp, peeled and deveined
1 small carrot, peeled and large dice
1 stalk of celery, large dice
1 tablespoon white wine
1 tablespoon unsalted butter
Instructions
Fold parchment paper in half to make a rectangle. Place on work surface with open end toward you.
Place salmon and shrimp in middle of parchment, and season with salt and pepper.
Top the fish with a little of the diced carrot and celery (you might not use all of it).
Carefully pour the white wine over the vegetables and fish.
Place the butter on top of the vegetables.
Close the packet by carefully pleating the edges (see video).
Place the packet in an aluminum pie plate.
Preheat grill over medium-low heat.
When the grill is hot, place the pie plate on the grill. Cook for about 5-10 minutes until packet is puffed, and fish is cooked through.
Remove pie pan from grill, place the packet on a plate and serve immediately.
TEC Tip: To tell if the fish is cooked and warm, insert the tip of a metal skewer into the packet and into the fish (do not pierce the bottom of the packet). Hold it inside the packet for about 5 seconds. Remove the skewer and carefully touch it. If the skewer is hot, then the fish is done. If the skewer is still only slightly warm or cold, then keep cooking.
Grilled Brochette of Vegetables
Author:
Serves:
Serves 2-4 depending on size of skewers
Ingredients
1/2 medium zucchini
1/2 medium yellow squash
1/2 onion
1/2 red pepper
Olive oil
Balsamic glaze (optional)
Instructions
Cut the vegetables into large chunks or rounds.
Slide the vegetables onto a metal or wooden skewer, alternating the pieces to vary the color.
Drizzle olive oil all over the skewers, and season with salt and pepper.
Preheat grill on medium heat.
When the grill is hot, place the skewers onto the grill. Leave the handle of the skewer hanging off the edge of the grill so it doesn't get hot. Grill about 5-8 minutes, rotating the skewers every few minutes, until the vegetables are softened and grill marks or char show in spots.
Remove skewers from the grill, and drizzle with reduced balsamic glaze over if desired.
TEC Tip: If using wooden skewers, soak the skewers in water with a splash of white vinegar for 30 minutes before using them. This will keep them from burning up on the grill.
Chicken Tandoori
Author:
Ingredients
2 boneless chicken breasts
1/4 cup plain full-fat yogurt
1/4 cup chopped onion
Juice of 1/2 lemon
1 teaspoon minced garlic
1/2 teaspoon fresh ginger, grated
1 teaspoon garam masala
1 teaspoon cayenne pepper
1/2 teaspoon turmeric
1/2 teaspoon paprika
Canola or vegetable oil (for oiling grill)
1/2 bunch cilantro, chopped
1 lemon, cut into wedges
Instructions
Season chicken breast all over with salt.
Place yogurt, onion, lemon, garlic, ginger, garam masala, and cayenne pepper in a medium mixing bowl, and stir well to combine.
Add the turmeric and paprika, and stir again to combine.
Preheat grill on medium heat. Lightly oil the grill.
Place chicken on the grates, and grill about 4-5 minutes on each side until chicken is cooked through.
Remove chicken from heat, and garnish with cilantro and lemon wedges.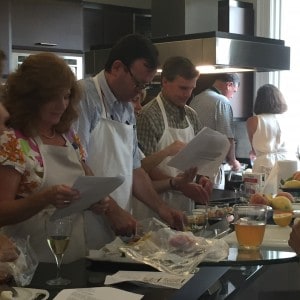 Five Spice Pork Tenderloin
Author:
Ingredients
1 pork tenderloin, cleaned and trimmed to remove silver skin
1 teaspoon olive oil
1 teaspoon garlic, minced
1 teaspoon Asian five spice seasoning
Instructions
Rub olive oil and garlic all over pork tenderloin.
Sprinkle five spice seasoning and salt all over, and rub into meat.
Preheat grill on high heat.
When the grill is hot, place the pork on the grates. Sear on all sides to get grill marks.
Turn heat down to low, and move pork to warming rack. Continue cooking another 8-12 minutes, until desired internal temperature is reached.
Remove pork from the grill, and rest for 5 minutes prior to slicing.
TEC Tip: You can touch the pork and see if it is firm to the touch. If it is, then it is most likely around medium-rare to medium.
Naan Bread
Author:
Serves:
Makes about 6-8 pieces of bread
Ingredients
1/2 packet (0.25 ounce) of active dry yeast
1/2 cup warm water
1/2 cup white sugar
1 1/2 tablespoons milk
1 egg, beaten
1 teaspoon salt
2 1/4 cups bread flour
1 teaspoon minced garlic
Canola or vegetable oil (for oiling grill)
1/4 cup unsalted butter, melted
Instructions
In a large mixing bowl, dissolve yeast in warm water. Let stand for 10 minutes until frothy.
Stir in sugar, milk, egg, salt and enough flour to make a soft dough.
Knead for 6 to 8 minutes on a floured surface. Set aside and allow rising for one hour. It should double in volume.
Punch down dough and knead in garlic.
Portion into golf ball size and roll out with rolling pin.
Place on trays and allow doubling in size again.
Preheat grill on medium heat.
When the grill is hot, lightly oil grill, and lay pieces of bread on top of grates.
Grill about 2-3 minutes on each side. Dough should puff up and become lightly brown with char marks.
Remove bread from grill, and brush with melted butter and sprinkle with salt.
Grilled Peaches with Fresh Cream
Author:
Ingredients
2 peaches, sliced in half and pit removed
Cooking spray
1/2 cup whipped cream
Instructions
Preheat grill over medium heat.
When grill is hot, spray with cooking spray.
Add peaches to the grill, and grill until grill marks show and peaches are slightly softened, about 3-5 minutes each side.
Remove peaches from the heat, and let cool slightly.
Serve the warm grilled peaches topped with some whipped cream.