This Spicy Lowcountry Boil recipe is perfect for lazy summer beach and camping days. It's an easy way to feed a crowd, just dump everything out on paper and let everyone dig in!
The best part is that you don't need a huge pot of boiling water when you use your TEC Grill with the Infrared Smoker/Roaster and Grill Tray accessories. Adding beer to the radiant drip tray will create steam, and the infrared heat will ensure that the food stays juicy and moist.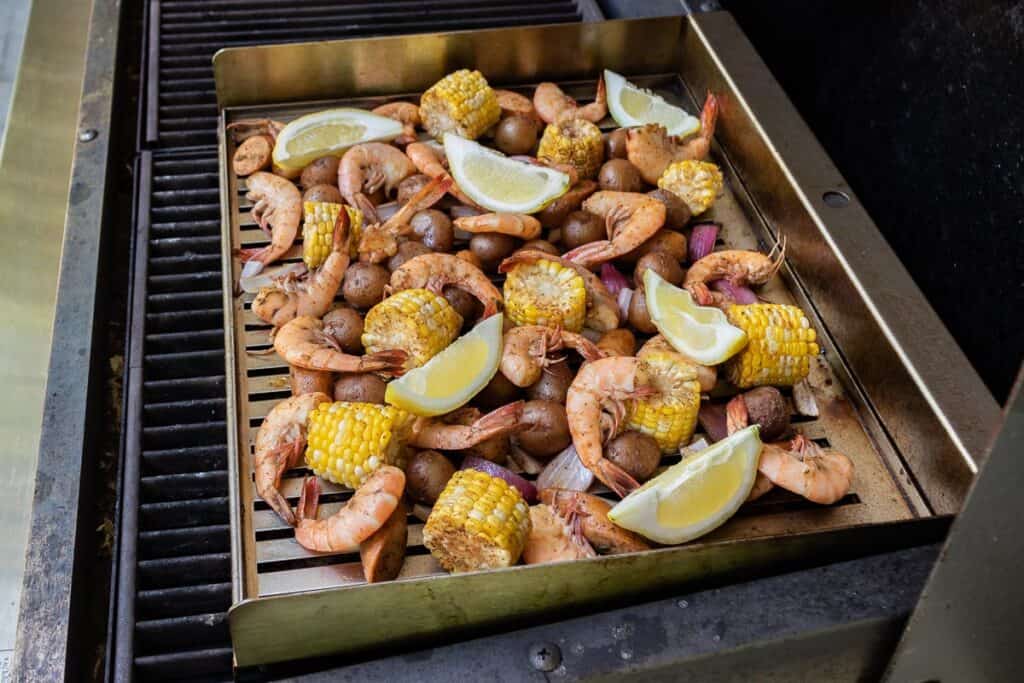 Since you're steaming several different things at once with a Lowcountry Boil, the secret to perfectly cooked food is to add the ingredients in layers. Start with the potatoes and onions, then add the corn and sausage. Finally, add the shrimp at the end of the steaming process so they do not overcook.
Use your favorite seafood seasoning or make your own. To spice things up, add a generous splash of hot sauce to the seasoning and to the homemade cocktail sauce. Squeeze some fresh lemon juice over all of it, and serve with plenty of ice cold beer!
SPICY LOWCOUNTRY BOIL
1 pound baby red potatoes, steamed until fork tender
1 red onion, cut into wedges
2 ears fresh corn, cut across into 4 pieces each
4 cooked andouille sausages, cut on the bias into bite-size pieces
1 pound shell-on shrimp
1/2 cup seafood seasoning, such as Old Bay, divided
About 1-2 tablespoons hot sauce, to taste
About 1/2 cup canola oil
2 bottles amber beer
2 lemons, cut into wedges
Place the radiant drip tray and Smoker/Roaster rack on top of the grates of your TEC Grill. Place the Infrared Grill Tray on top of the Smoker/Roaster rack. If you would like to add a little smoke, also position the chip corral in front of the rack. Fill the corral with small wood chips (we suggest apple or peach with the shrimp).  No need to pre-soak the chips!

Preheat the grill on medium for 10 minutes with the hood closed.

Place the potatoes and onions in a large mixing bowl and toss with 1 tablespoon seafood seasoning, a dash of hot sauce and enough canola oil to lightly coat the vegetables. Toss or stir until the vegetables are evenly coated with seasoning and oil. Transfer to a small sheet pan or another small bowl.

Repeat the seasoning process with the corn, sausages and shrimp keeping each ingredient separate.

When ready to grill, pour a bottle of beer into the radiant drip tray to create steam. Turn up heat to medium-high.

Arrange the potatoes and onions on top of the Grill Tray, and close the hood. Steam for about 5 minutes or until potatoes and onions are softened. Add more beer to the drip tray if needed.

Add the corn to the tray and continue steaming another 5 minutes until corn is tender. Again, add more beer if needed.

Add the sausages to the tray and steam with the hood closed until sausages are warmed through, about 3-5 minutes.

Finally add the shrimp to the tray and close the hood. Steam just until the shrimp turn pink and opaque, about 3-5 minutes.

Squeeze fresh lemon juice all over, and serve with additional lemon wedges.
SPICY COCKTAIL SAUCE
1 cup chili sauce
1/4 cup bottled horseradish
1-2 teaspoons hot sauce, to taste
1 teaspoon Worcestershire
1 teaspoon fresh lemon juice
1/2 teaspoon soy sauce
Combine all ingredients in a small mixing bowl.

Chill sauce until ready to use.