Why should you try grilling on a salt block on your TEC Grill? Because it's yet another way to infuse amazing flavor into your food, and also makes for an impressive presentation! A salt block is also super versatile in that you can heat it up to sear meats, seafood and vegetables directly on it. Or you can chill it to keep appetizers, seafood and even desserts cold for hours.

As the name implies, salt blocks are made of Himalayan Pink Salt, which is a mined salt that is rich in a number of minerals (not just salt). You would think that the food ends up tasting too salty, but it really doesn't. The end result is a complex, earthy and mineral flavor with just a touch of saltiness. You add salt to your food anyway while cooking, and this really infuses that taste directly into the food.
Salt blocks are available in a number of sizes and shapes. They are really easy to use, but be sure to follow our tips for grilling success.
TIPS FOR COOKING ON A SALT BLOCK
-If you will be searing or cooking on the salt block, it is REALLY important to preheat it slowly on the grill in stages, so that it does not crack. Place the salt block on top of the cold grates of your TEC Grill, and turn the heat to low. Wait 15 minutes, and then turn up the heat to medium. Wait 15 minutes, and then if desired, turn the heat to medium-high. On a TEC Grill, we suggest using medium or medium-high heat for the best salt block results.
-When searing foods on the salt block, choose foods that cook quickly or cut the food into smaller pieces so they will sear faster. You can cook an entire meal on the salt block in stages, or all together.
-If you will be using the salt block to chill food, just place it in the refrigerator or freezer for at least a couple of hours. You can even keep it in the freezer indefinitely, so it is ready to use whenever.
-Try to use oil sparingly on the salt block. It could get into the cracks and become rancid over time.
-To clean a salt block, use a spatula or scraper to scrape off most of the char. Then use a damp sponge to gently wipe the block. Do not immerse the block in water, and never put it in the dishwasher! Wipe dry immediately with paper towels and set on a rack to completely dry before putting it away. Store it in a cool dry place indoors.
SALT BLOCK RECIPES
Shrimp with Mango and Jalapeno
-Preheat the grill and salt block as directed above.
-Meanwhile, toss shrimp with salt and pepper (or your favorite seafood seasoning), and a little drizzle of canola oil. Slice a mango into wedges, and cut a jalapeno into thin slices.
-When the salt block is hot, place the shrimp, mango, and jalapeno on the block. Sear just until the shrimp turn pink, and mango is starting to char.
-Remove everything from the salt block, and put on a platter. Squeeze fresh lime juice over the top, and garnish with cilantro if desired.

Watermelon, Prosciutto, and Blue Cheese Bites
-Chill the salt block for two hours.
-Meanwhile, cut a seedless watermelon into 1-inch cubes.
-Top each cube with a bite of prosciutto, ham, or other sliced sausage. Add a few crumbles of blue cheese, and secure with a toothpick.
-Arrange the watermelon cubes on the chilled salt block, and garnish with chives. Serve directly on the block.

Sizzling Beef Fajitas
-Preheat the grill and salt block as directed above.
-Meanwhile, cut a sirloin steak into thin strips against the grain. Toss the strips with your favorite fajita or steak seasoning.
-Slice red onion, red pepper, and green pepper into thin strips and toss with a little drizzle of canola oil.
-When the salt block is hot, place the steak, onion, and peppers on the block. Sear just until the steak is cooked, and the peppers and onions are charred.
-For a dramatic sizzle plate presentation similar to your favorite Mexican restaurant, carefully bring the entire salt block to the table and place on a heat-proof trivet. Serve with tortillas, cheese, rice and beans.

Baked Brie with Jam
-Preheat the grill and salt block as directed above.
-When the salt block is hot, place a small wheel of brie on the block. Close the hood, and bake the brie for about 8-10 minutes until the cheese is melted and gooey.
-Top the brie with your favorite berry jam, and serve immediately with crackers.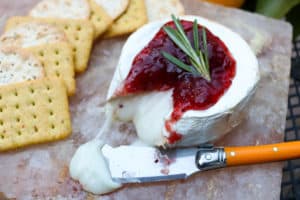 What have you grilled on a salt block? Share with us by tagging your pics with @tecgrills!