Instead of going out to eat this Valentine's Day, treat your sweetie to a romantic Italian dinner on the grill. It's guaranteed to be the most romantic and best table in the house!
Eating at a restaurant on Valentine's Day is really one of the worst days to go out. It's next to impossible to get a reservation, especially if you don't plan weeks (or even months) ahead. If you do manage to score that coveted 7:30pm spot, you can guarantee that the place will be packed, and the servers will be stressed out. Not to mention that you will probably get an over-priced prix-fixe menu that is not that exciting.
So skip going out this year, and instead celebrate St. Valentine together at home over a romantic Italian Valentine's dinner on the grill. The best part is that you can cook just about everything on your TEC Infrared Grill.
The key to this menu is to make it in courses. You just need to have your prep done in advance for each course, and you can even make the dessert in advance. Once you are prepped, each course will come together very quickly.
Primi (First Course)
Start the meal with an easy appetizer and a refreshing cocktail. This gives you and your date something to sip and munch on while you finalize the prep for the rest of the meal.
Playing off the romance and hearts idea, how about a salad of grilled artichoke hearts and hearts of palm served over grilled hearts of romaine? Top it with a warm garlic and anchovy dressing called Bagna Cauda, which is reminiscent of a classic Caesar dressing.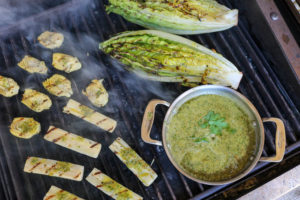 For the cocktail, go with a sparkling grilled orange Negroni. This Campari cocktail is a delicious aperitif that will stimulate your taste buds for the courses to come, and a fun twist on the typical glass of champagne.
Secondi (Second Course)
For the entrée, there is nothing more delicious and spectacular than a charred and juicy "Bistecca alla Fiorentina". This steak is also called a Tuscan Porterhouse, and is a beautiful piece of meat coming from the prized Chianina breed of cattle in Tuscany. If you can't find a Porterhouse steak at your local butcher shop, a ribeye or T-bone steak would also work well for this recipe. Either way, carve the steak into individual portions table-side for an impressive romantic presentation.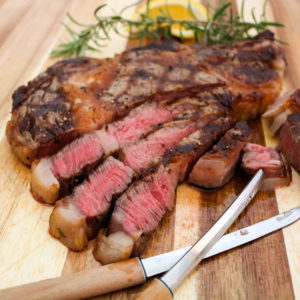 As an accompaniment to the steak, serve grilled polenta topped with wilted lemon arugula, charred grape tomatoes, and gorgonzola. The peppery bite of the arugula and the tanginess of the lemon, tomatoes, and blue cheese are a perfect compliment to the richness of the steak.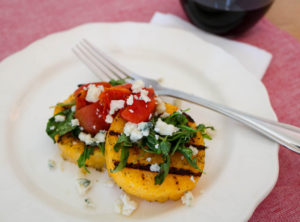 Dolci (Dessert Course)
End on a sweet note, and keep dessert simple and rich with chocolate. Here are some ideas:
-How about sharing a warm molten chocolate cake baked on the grill in a cast iron skillet with a big scoop of ice cream or fresh whipped cream?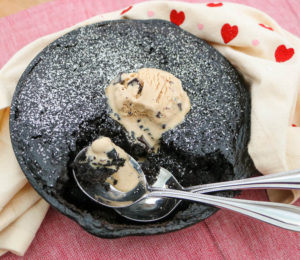 –Affogato is so deliciously simple, but always makes a big impression! Just place a scoop or two of chocolate ice cream (vanilla or coffee would be nice too) in a small coffee cup. Pour a shot of hot espresso over the top of the ice cream right at the table, and top with some toasted nuts.
-Give your Valentine a sweet "kiss" by making Italian Baci di Dama cookies. These are chocolate cookies with chocolate ganache sandwiched between them, as if the cookies were kissing.
What are you grilling for Valentine's Day with your sweetie? Share with us using the hashtag #tecgrills on Instagram or on our Facebook page!
Grilled Artichoke, Hearts of Palm, and Romaine Salad with Bagna Cauda
Author:
Ingredients
1/2 cup olive oil, plus more for grilling
4 tablespoons unsalted butter, room temperature
6 anchovy fillets
3 garlic cloves, roughly chopped
2 tablespoons parsley, roughly chopped
Zest of 1 lemon
1 can artichoke hearts, drained, patted dry, and cut in half
1 jar hearts of palm, drained and patted dry, and cut in half lengthwise
1 head of romaine lettuce hearts, cut in half lengthwise
Parmesan cheese, shaved
Loaf of crusty Italian bread
Instructions
Preheat grill on medium-high heat.
Place 1/2 cup olive oil, butter, anchovies, garlic, parsley, and lemon zest in the bowl of a food processor. Blend until smooth, and season with salt and pepper.
Pour mixture into a small cast iron pan (or other heavy bottomed sauce pan).
Drizzle artichoke hearts, hearts of palm, and romaine with a little olive oil. Sprinkle with salt and pepper.
When ready to grill the vegetables, place the cast iron pot directly on the grill grates to heat the sauce.
Add the vegetables to the grill, and cook until charred and softened. Remove from the grill, and immediately drizzle with the warm sauce.
Garnish with chopped fresh parsley, and shaves of Parmesan cheese. Serve with crusty bread for dipping.
Grilled Polenta with Arugula, Tomatoes, and Gorgonzola
Author:
Ingredients
1 tube pre-cooked polenta
6-8 cherry or grape tomatoes
Olive oil
1 bag pre-washed arugula
Juice of 1/2 lemon
1/2 cup gorgonzola cheese, crumbled
Instructions
Preheat grill on medium-high.
Cut polenta into 1-inch thick slices and place on a plate.
Drizzle polenta and tomatoes with olive oil, and season with salt and pepper.
Place polenta on hot grill. Grill until grill marks show, and polenta is warmed through. Remove from grill and set back on plate.
Place tomatoes on hot grill. Grill just until starting to char and soften. Remove from grill.
Place a sauté pan directly on the grill grates. When the pan is hot, add some olive oil to coat the bottom of the pan. Add a few handfuls of arugula, and stir just until wilted. Remove pan from the grill, and add tomatoes to the pan. Drizzle with lemon juice, and season with salt and pepper.
To serve, top the grilled slices of polenta with the arugula, tomatoes, and crumbled gorgonzola cheese.