The cold weather this winter has us craving warm hearty comfort food at TEC Grills, like this recipe for Red Wine and Rosemary Grilled Short Ribs.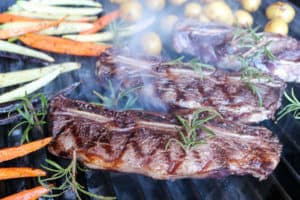 Short ribs are one of our favorite classic hearty winter comfort foods. You will typically see recipes for short ribs that are braised in some kind of liquid, like wine or stock, until they are fall apart tender. But did you know that short ribs are also delicious when grilled just like a steak? They actually resemble a well-marbled rib-eye with a beefy taste that will rival your most expensive cut. Give them a soak in a hearty marinade of red wine, rosemary and garlic, and these short ribs are guaranteed to keep you warm and comforted all winter long!
WHAT TO LOOK FOR
As you might guess, short ribs are cut from the lower rib section area. They can be long strips (flanken-style) or cut into short lengths (English-style), and can be found with or without the bones. If you can only find bone-in ribs, we recommend deboning them with a sharp knife into one long strip steak.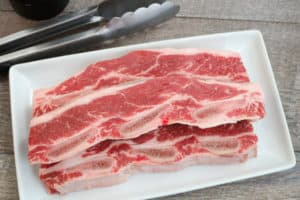 Flanken-style tend to be meatier and cut thinner, making them perfect for grilling. You can typically find flanken cut short ribs at your local Wal-mart. Or if you have an Asian, South American or Mexican grocery store in your area, try there as well since grilled short ribs are quite common in those cuisines. You might see them advertised as "Kalbi" or "asado de tira" (read our blog here for a delicious Asian and Argentinean short rib recipe!).
MARINATE THE SHORT RIBS
Just like typical braised recipes, a marinade of garlic, rosemary and red wine will add hearty flavor to the short ribs.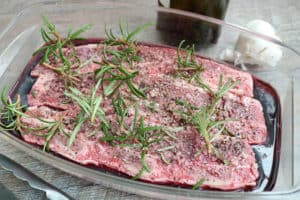 4 flanken-style short ribs
6-8 cloves of garlic
2-3 large rosemary branches
About 1 cup red wine
Rinse short ribs with cool water, and pat dry.

Place ribs in a shallow dish or container in a single layer.

Mash or press cloves of garlic into a paste. Use about 1-2 cloves per short rib, depending on the size of the ribs.

Rub the garlic all over the ribs in the container. Season with salt and pepper.

Cut 2-3 large rosemary branches into 1/2-inch pieces. Top the ribs with the rosemary pieces, pressing some of the pieces into the meat.

Add enough red wine to the dish to just cover the ribs. We like to use a dry hearty red, like a Cabernet Sauvignon or Sangiovese.

Cover the dish, and place in the refrigerator. Marinate at least 2 hours, and up to overnight.
RED WINE AND ROSEMARY GRILLED SHORT RIBS
The marinade serves double-duty, since you also use it to make a rich pan sauce to top the grilled short ribs.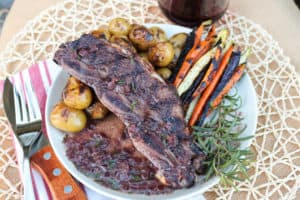 Red wine marinated short ribs (from recipe above)
Canola oil
1 small shallot, minced
1/4 cup beef stock
About 1/4 cup fresh rosemary, leaves only, roughly chopped
1 tablespoon unsalted butter
Accompaniments: Grilled butter smashed potatoes and grilled carrots
When ready to grill, remove the short ribs from the marinade. Pat dry with paper towels, and remove any rosemary pieces from the meat. Reserve rosemary pieces, and let ribs come to room temperature while making the pan sauce.

Heat a small sauté pan over medium heat. When the pan is hot, add enough canola oil to cover the bottom of the pan.

When the oil is hot, add the shallot to the pan. Saute until softened and starting to brown.

Strain red wine marinade, and add the wine to the sauté pan. Bring to a simmer over low heat. Cook until reduced in half.

When wine is reduced, add the beef stock and bring back to a simmer. Reduce again just slightly.

Add the chopped rosemary (NOT the rosemary pieces!) and butter, and stir until butter is melted. Taste for seasoning, and add salt and pepper if necessary.

Preheat your TEC Grill on medium-high heat for 10 minutes.

Rub short ribs all over with canola oil.

Place short ribs on the hot grill, and scatter the reserved rosemary pieces around and on top of the short ribs. Grill until desired temperature is reached. Just a like a good steak, we recommend you grill them to medium-rare, or an internal temperature of around 130 degrees F, about 8-10 minutes per side depending on the thickness of the ribs.

Remove the short ribs from the grill, and let rest for a few minutes. We suggest serving the short ribs with grilled smashed potatoes, grilled carrots, and the pan sauce.
 Do you have a favorite short rib recipe? Share with us by tagging your grilling pics @TECGrills!