We are excited to announce an entire line of new accessories for the TEC® Patio FR grill – the infrared smoker/roaster, commercial style flat-top griddle, and infrared, pizza oven rack!
We designed each piece to cover one entire burner of the Patio grill (23" and 41" models) to provide the maximum amount of cooking area, approximately 270 square inches. TEC's Patio grill series has the highest and lowest infrared grilling temperatures to date – 200°F – 900°F, allowing you to slow cook as well as sear. The new accessories further expand the versatility of this grill, making this your go-to grill for all your cooking. You will never use your stove again!
TEC's Infrared Smoker/Roaster
Add a TEC Smoker/Roaster to your Patio grill and it becomes an infrared smoking/roasting machine. Manufactured of 304 stainless steel, this two piece combo includes a slotted meat rack and heavy duty 14 gauge stainless drip pan. The meat rack slides easily over the back of the grill's hood body and extends to the front of the grill, leaving a small area of grate exposed for replenishing wood chips when smoking. The drip pan is designed to be placed directly on top of the cooking grates beneath the meat rack. It not only collects the drippings from food but further slows the cooking process to ensure a low, slow barbeque, roasting, and smoking experience.
TEC's Infrared Pizza Oven Rack
Purchase a TEC Infrared Pizza Rack for your TEC Patio and turn your grill into an infrared pizza oven. We've discovered that infrared heat makes pizza crust crisp but does not dry out. Our 304 stainless steel, infrared rack raises the cooking surface of the pizza above the grates to slow down the cooking process so that the crust and top of the pizza cook evenly. The large open area of our perforated cooking surface allows the maximum amount of infrared heat to reach the crust, making the outside of the crust crisp while keeping the inside and toppings moist.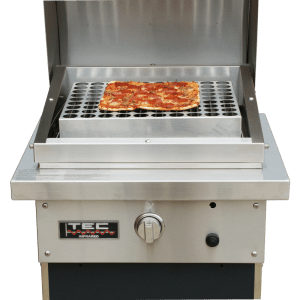 TEC's Commercial Flat-Top Griddle
Our restaurant style griddle topper is patterned after our commercial flat-top, with a grease trough built-in to the front of the griddle. It is designed to fit directly on the grates of your grill but provides a space between the grates and the cooking surface to allow the griddle to be heated evenly for cooking. Manufactured of heavy duty 14 gauge stainless steel, the sheer weight of this appliance, 14 pounds, keeps temperatures steady and consistent.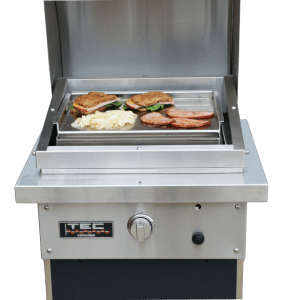 These accessories are ready to order now from your local dealer, just in time for the holidays!   You can find your closest dealer via our Find a Dealer page.