With the sweetness of coconut milk and the bright herbal notes of lemongrass, these Pork Satay Skewers are quick and easy to make on your TEC Grill. Pork tenderloin is just as lean as pork loin, but will stay juicy and tender with a quick sear.
Serve with peanut sauce, lots of fresh cilantro and some quick Thai cucumber pickles as an appetizer. Or add some jasmine rice to make it a meal.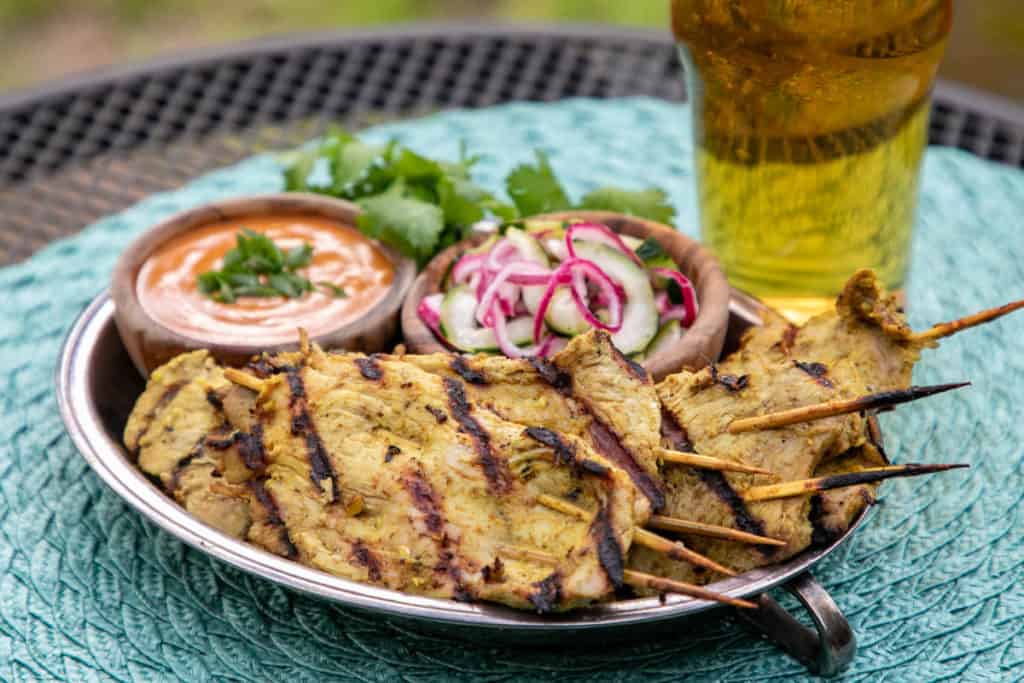 LEMONGRASS PORK SATAY SKEWERS
Splash of apple cider vinegar
1/2 cup coconut milk
1 stalk lemongrass, tender leaves chopped
1 small shallot, chopped
2 tablespoons vegetable oil
1 tablespoon brown sugar
1 tablespoon mild curry powder
1 teaspoon fish sauce
1 teaspoon lime juice
1 teaspoon salt
1/2 teaspoon ground cumin
1/8 teaspoon cayenne pepper
1 pork tenderloin, cleaned and trimmed
Fresh cilantro leaves
Peanut sauce
Thai cucumber pickles
Place wood skewers in a shallow baking dish and cover with cold water and a splash of apple cider vinegar. Soak for at least 30 minutes while making marinade.

Add coconut milk, chopped lemongrass, shallot, oil, brown sugar, curry powder, fish sauce, lime juice, salt, cumin and cayenne pepper to the bowl of a food processor. Process until smooth, about 30 seconds. Transfer marinade to a shallow baking dish.

Cut pork tenderloin in half through the middle. Then cut each half lengthwise into thin strips, about 3 inches long by 1-2 inches wide and 1/8 inch thick.

Add pork strips to the marinade, and turn to coat all over. Let marinate for at least 30 minutes and up to 4 hours in the refrigerator.

When ready to grill, preheat your TEC Grill on medium heat for 10 minutes with the hood closed.

Thread pork strips onto the skewers. Do not wipe off the marinade, but allow any excess to drip off. Use two skewers if the strips are wide so that the meat lays flat. Discard marinade when finished skewering the pork.

When the grill is hot, lay the pork skewers on the grill. Grill for about 5 minutes on the first side, until the meat lifts easily off the grates of the grill. Flip, and grill another 2-3 minutes, just until pork is cooked through. Remove from the grill, and serve immediately with fresh cilantro, peanut sauce and cucumber pickles.