Our Commercial-style Flat-top Griddle accessory adds remarkable versatility to your TEC Grill. Perfect for entertaining a crowd, the griddle is great way to bring your guests outside and around the grill. In this video, Chef Danielle shows you how to prepare Hibachi fried rice and breakfast on one of our favorite grilling accessories.
[youtube id="zmbXYVK0mJ8″ responsive="true" showinfo="false" branding="false" hd="false" autoplay="false" controls="true" theme="light"]
Our high quality, 12 gauge stainless steel Commercial Style Griddle accessory distributes heat evenly and is incredibly durable. It is patterned after those found in restaurant kitchens, and provides a flat top surface perfect for eggs, bacon and delicate items like scallops or fish burgers. A full-width drip tray catches any excess grease for easy cleanup. The Griddle fits right on top of the cooking grate for the Patio FR and Sterling Patio FR series of grills.
Tips for cooking on the Commercial Style Griddle

-Use canola oil to promote browning and prevent sticking.
-Lay the Griddle on top of the cooking grates and close the hood.
-Preheat the griddle on low heat for 10 minutes before cooking. Keep on low to medium throughout cooking.
-Use the griddle for anything you would typically cook in a pan on the stovetop.
-For crispy bacon, add the bacon to the griddle before you turn on the grill to render out the fat evenly.
-Have 2 spatulas on hand when using the griddle as a hibachi.
Recipes for the Commercial Style Griddle
Eggs
-Preheat grill with griddle on medium heat for 10 minutes.
-Add a little oil to griddle.
-Cook egg 30 seconds to 1 minute on each side for over-easy.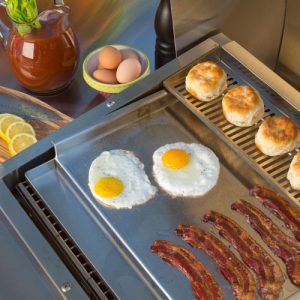 Bacon
-Place bacon on griddle, and then place on grates.
-Preheat grill with griddle and bacon on medium heat for 10 minutes.
-Continue cooking bacon for another 10-15 minutes until desired crispiness.
Grilled Cheese

-Preheat grill with griddle on medium-low heat for 10 minutes.
-Butter bread, or oil griddle.
-Cook 3-5 minutes per side, until cheese is melted and bread is golden brown.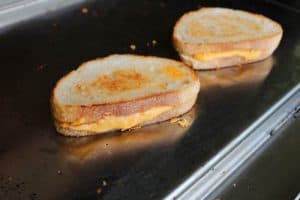 Vegetable Fried Rice

Canola or vegetable oil
1 egg
1/2 small onion, sliced
1/2 cup mushrooms, sliced
1 small zucchini, cut into thin strips
1 small carrot, julienne
1/4 cup frozen peas
1 cup cooked white rice (preferably a short-grain rice)
2-3 tablespoons soy sauce
1 tablespoon unsalted butter
1 teaspoon sesame oil
Sesame seeds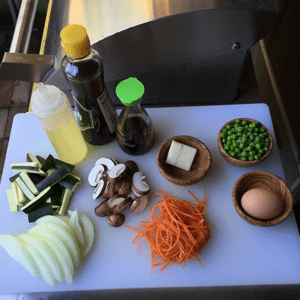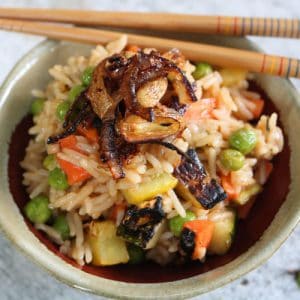 -Preheat your TEC Infrared Grill over medium heat with the griddle accessory on top of the grates.
-When the griddle is hot, add just enough canola oil to lightly coat the griddle.
-Crack the egg onto the hot griddle. Use spatula to break up the egg, and stir it until egg is cooked through. Use spatula to cut the egg into small pieces. Place egg in a small bowl and set aside.
-Increase heat to medium to medium-low.
-Add the onion and mushrooms to the griddle, and stir-fry until lightly browned and softened.
-Add the zucchini and carrot to the griddle, and continue stir-frying until the zucchini just starts to soften.
-Add the peas and rice to the vegetables, and toss to combine.
-Add the soy sauce, butter, and sesame oil to the vegetable rice, and continue stir-frying until rice is heated through.
-Add the egg to the vegetable rice, and stir to combine.
-When ready to serve, garnish with sesame seeds.
Share with us how adventurous you get with your new accessory by using the hashtag #TECGrills on all your grilling pictures!
IMPORTANT: Do not use the Patio FR or Sterling Patio FR Commercial-style Griddle on heat settings above medium-high. TEC Grills can easily reach 900 degrees F (and above!), and even the griddle's 12 gauge stainless steel will buckle under this intense heat. If the griddle buckles, turn the grill off and allow the griddle to cool. The griddle will regain its original form.