Spring is in the air, and Easter is right around the corner! That means that at TEC Grills, we are planning to grill a centerpiece ham for the holiday table. The hams that you usually find at the market are already cured and usually smoked too. Basically, all you have to do is reheat, glaze, and serve.
There's nothing wrong with a pre-cooked ham, especially if you are short on time. But this year, why not try smoking a fresh ham or ham roast? Our Infrared Smoker/Roaster accessory makes it so easy to turn your TEC Grill into a smoker!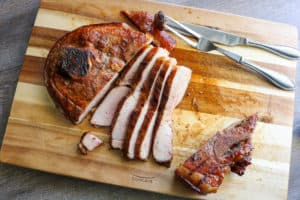 WHAT TO LOOK FOR
Ham is the term used for the cut of meat that consists of all or part of the pig's hindquarters. When it's cured, and/or smoked, it is what you typically think of as "ham". But when it is not processed, it is still called ham but with the term "fresh" added to the name. The flavor is more akin to a really delicious pork roast, versus a salty cured meat.
You can typically find a fresh ham as a large shank roast, that is, in the same form as a cured ham. But often times, you can find a fresh ham roast, which is a thick slab cut from the shank. This size can be a lot more manageable if you are not expecting to feed a small army. The thinner size will also cook a lot quicker. Ask your local butcher to see if they will cut a roast for you. Or check out your local farmers market to source fresh ham directly from the farmer that raised the pig. For our fresh ham roast, we turned to Bowers Farm, a local sustainable farm located not far from our headquarters in Columbia, SC.
PREPARE THE HAM
You don't have to do much to a fresh ham roast to prepare it for the grill. If you are smoking an entire fresh ham, you may want to brine it first to be sure it stays moist. If you don't have time, just follow these steps:
Rinse the ham, and pat dry with paper towels.

Rub the ham all over with your favorite dry rub. If the rub doesn't have that much sugar in it, also sprinkle some brown sugar all over the ham to help with browning and caramelization.

Let the ham sit out, covered, 30 minutes to one hour before you will grill it to allow it to come to room temperature.

SMOKE/ROAST THE HAM
As mentioned, fresh ham is more like a pork roast. So you want to be sure it will stay moist and juicy while smoking. Place a pan of water and apple cider vinegar to one side of the Smoker/Roaster to develop steam. You can also pour some of the vinegar mixture into the drip tray to envelope the ham in steam, and add some flavor.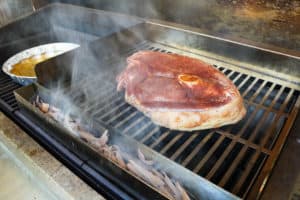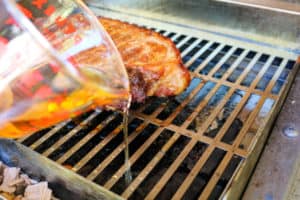 Basting the ham with a glaze will also keep it juicy, and add even more flavor. Combine the following in a small bowl, and glaze the ham every 30 minutes:
1/2 cup brown sugar
1/4 cup honey
1/4 cup apple cider vinegar
1 tablespoon Dijon mustard
10-12 whole cloves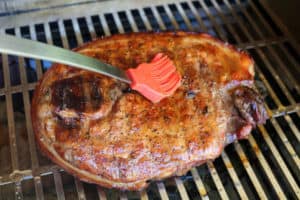 Place the Smoker/Roaster rack on top of the grates of your TEC Grill. Position the chip corral in front of the rack, and fill the corral with small wood chips (we suggest apple wood with ham). No need to pre-soak the chips!

Preheat the grill on medium for 10 minutes with the hood closed until the chips start to smoke.

Place the ham roast on the Smoker/Roaster rack.

Turn the heat down to low, and close the hood.

Check on the ham about every 30 minutes to replenish the wood chips, check its temperature, add additional liquid to the drip tray, and glaze the ham. Flip the ham over each time to be sure you glaze both sides.

Cook until the ham's internal temperature reaches 145°F, about 1 1/2 hours for a 3-pound roast.

Let the ham rest for about 15 minutes before carving. Serve warm or at room temperature with a sweetened pepper jelly, if desired.
TEC Tip: While you are waiting for the ham to rest, you can use your grill as a second oven to reheat all of the other delicious dishes you are serving alongside the main course!
Share with us how you like to grill ham by using the hashtag #TECGrills on all your grilling pictures!