A gift made by hand is the best thing you can give anyone this holiday season! So this year, opt to give everyone on your list a gift from your TEC Grill, in the form of beef jerky. Because who doesn't love strips of flavorful meat dried to a perfectly chewy consistency in their stocking?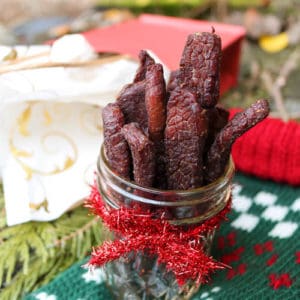 The best part about this gift is that it is really easy to make on your TEC Grill with (or without) the Smoker/Roaster Accessory. It only requires a few ingredients, a little prep time, and then a few hours of occasional monitoring to produce amazing results that will put the packaged beef jerky you get at the gas station to shame.
As with most recipes that only feature a few ingredients, the quality of the meat is important. But with beef jerky, the type of meat you use is also a key to success. Look for cuts of meat that are lean with very little fat. You want to use something like top round, bottom round, flank steak, or London Broil.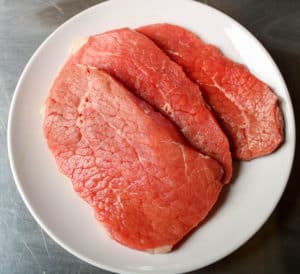 Slice the meat thinly, either against the grain for firmer jerky or with the grain for chewier beef jerky. You want the slices to be about 1/4 inch thick. It helps to freeze the meat for about 30 minutes to an hour to help you slice it thinly. Or ask your butcher to slice it for you. You can also use turkey, chicken, salmon, or other lean meats to make jerky as well.
While you can just use salt and pepper as flavorings, jerky is easily adaptable to a wide range of flavors. Some of our favorite recipes include this Sriracha Beef Jerky from Steven Raichlen, a Dr. Pepper soaked recipe from Tasting Table, and a basic BBQ rub inspired recipe from Bon Appetit.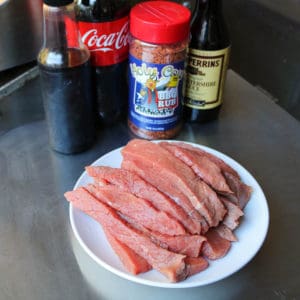 No matter how you season it, you will want to marinate the jerky in your seasoning of choice overnight. So plan ahead, and you might as well make a big batch while you are at it. After marinating, be sure to completely dry the pieces before putting them on your TEC Grill.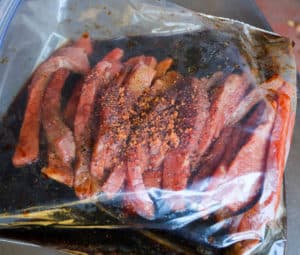 Keep the temperature very low, around 200 degrees F, to dehydrate the jerky. It will take about 3 hours to smoke/roast the meat to the desired consistency. It should be dry, stiff, but still bendable when ready. Let it cool completely before packaging it up for giving this holiday season!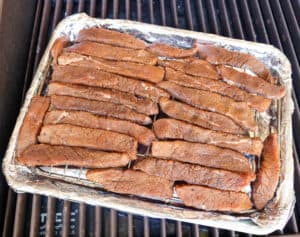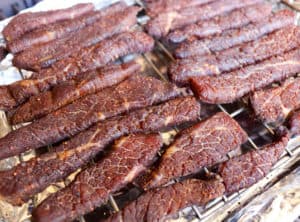 Notes:
-If you would like to smoke the beef jerky, you can use the Smoker/Roaster Accessory with the Chip Corral. Set the rack and drip tray on top of the grill grates, and lay the beef strips directly on the rack. Add wood chips to the Chip Corral, and smoke/roast the meat until done.
-If you want an even more tender jerky, use "Morton's Tender Quick" in the marinade. This is a blend of sodium, along with sodium nitrite and nitrate that will give your jerky a texture more similar to commercially packaged jerky.
What gifts from the grill will you be making?
Homemade Beef Jerky
Author:
Prep time:
Cook time:
Total time:
Serves:
About 1 1/2 pounds
Ingredients
1/2 cup soy sauce
1/4 cup Worcestershire sauce
1/4 cup cola
2 teaspoons of your favorite BBQ rub
1 teaspoon coarsely ground fresh black pepper
2 pounds top round, bottom round, flank steak, or London Broil, sliced thinly
Instructions
Stir together all ingredients, except for the meat, in a small bowl.
If meat is too thick, gently pound with a meat mallet until it is about 1/4 inch thick.
Place meat in a zip-top plastic bag, and pour the marinade over the meat. Seal the bag, and massage the meat to coat completely with the marinade. Place meat in the refrigerator, and marinate at least 4 hours and up to 24 hours.
Remove meat from the marinade, and place on paper towels. Discard marinade. Press on meat with paper towels to remove all moisture from the meat. It helps to use a rolling pin to really remove all moisture from the meat.
Preheat your TEC Grill over low heat.
Place the meat strips on a baking rack set over a sheet pan lined with aluminum foil, and place the pan on the grill.
Cook over low heat, turning strips occasionally until meat is thoroughly dried and stiff, yet still pliable, about 3 hours.
Remove from the grill, and let cool completely before packaging. Store in the refrigerator for a longer shelf life.