Did you know that South Carolina, the home of TEC Infrared Grills, has the tastiest peaches? While Georgia may be known as the Peach State, South Carolina is actually second only to California as the country's largest producer of peaches!
Surprisingly, peaches are not native to the US, but were brought here by the Spanish explorers in the 16th century. But take a look at any southern cookbook and you'll know that we have embraced them as our own. During the warm summer months, they can be found all over, from the market to the side of the road.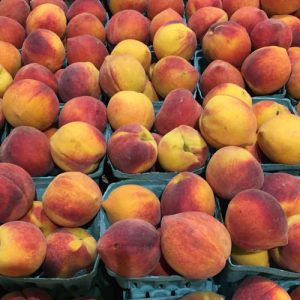 During prime peach season in the summer, we end up eating a lot of peaches. And at TEC Grills, of course we have to grill them! That is the beauty of peaches: that they are hearty enough to grill, soft enough to eat out of hand, versatile enough for either sweet or savory recipes, and can be eaten for breakfast, lunch, and dinner! The key to success is picking the right peaches for the job.
What to Look For
Depending on the time of year, you'll find either clingstone or freestone peaches in the market. The difference in the two is just as it sounds. Clingstone peaches have a pit that doesn't separate from the flesh. You have to cut or eat the fruit off.
A freestone peach has a loose pit that is easily pulled out of the center of the fruit when it's cut in half. It's not always easy to tell if the peaches at the market are clingstone or freestone since they look virtually identical, but you can tell by the time of the year. Clingstone varieties ripen first so you'll find them early in the season. Freestones usually start appearing in South Carolina in late June. We prefer these for grilling since you can get two perfect halves to toss on the grill.
How to Pick a Peach
Since peaches have such a short shelf life, the best way to pick the perfect peach is to choose locally grown peaches. Peaches are very delicate and can bruise easily so when they are shipped long distances, they are usually picked while very unripe. They might get softer but they won't get much sweeter on your countertop! A good visual cue that you have found a juicy peach is the coloring – riper peaches generally have more reddish coloring on them but that shouldn't be the only criteria you look for. A ripe peach has a sweet aroma and gives slightly under pressure.
You'll want to pick out peaches at different stages depending on what you are using them for. Slicing them up as a snack that afternoon? Go for the ripe, fragrant peaches. Grilling your peaches for the recipes here? You'll want to choose a firmer peach so it stands up to the grill without falling apart.
Summer Peach Recipe Ideas
For our recipes, we're using the classic yellow peaches, but you could also use white peaches or even the cute little donut peaches you sometimes see at the market. In addition to the peaches, all of these recipe ideas use basically the same ingredients. So to make it super simple to prepare them all, just grill a basket of peaches along with some red pepper, red onion, mango, and lime. Then you can use the ingredients as you go through your week!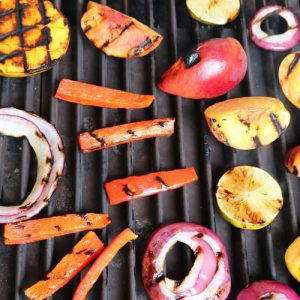 Peach, Prosciutto, and Ricotta Bruschetta
A new take on the classic flavors of a Caprese salad.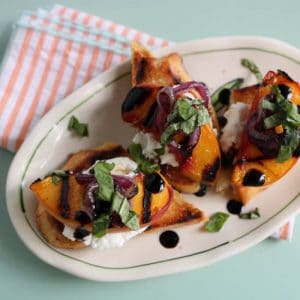 Slices of thick rustic bread
Olive oil
Fresh ricotta cheese
Grilled peaches
Grilled red onion
Fresh basil, sliced
Balsamic glaze
1. Brush slices of bread with olive oil, and grill until slightly toasted.
2. Spread ricotta cheese on the bread while it is still warm.
3. Top with slices of grilled peaches, red onion, and basil.
4. Drizzle with balsamic glaze.
Peach Mango Salsa
Delicious eaten straight out of the bowl with chips, or served alongside grilled fish or pork tenderloin.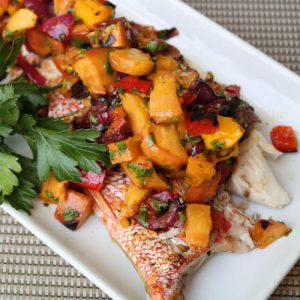 Grilled peaches, diced
Grilled mango, diced
Grilled red onion, chopped
Grilled red pepper, diced
Grilled lime wedges, squeezed for juice
Fresh cilantro, roughly chopped
1. Combine all ingredients in a bowl, and stir gently. Add more lime juice if desired, and season with salt and pepper.
Peaches and Olive Oil Cake
A super simple, yet elegant, dessert that will wow your guests! The olive oil helps the cake stay moist inside, and slightly toasted on the outside when grilled. But you can also use pound cake or pudding cake instead.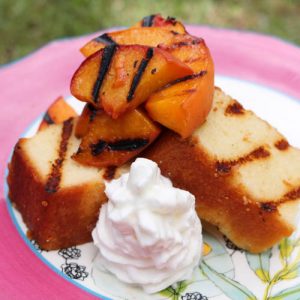 Olive oil cake
, cut into slices
Grilled peaches
Candied pecans, roughly chopped
Fresh whipped cream
1. Grill the cake slices, just until slightly toasted.
2. Top with the grilled peaches, a sprinkle of chopped candied pecans, and a dollop of whipped cream.
Peach Chutney
If all else fails, put the ingredients in a pot and cook down to make the perfect chutney to slather on biscuits with bacon.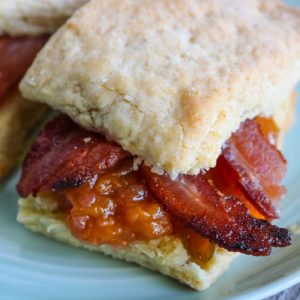 Use these ingredients as your starting point:
Grilled peaches, chopped
Grilled red onion, chopped
Grilled red pepper, chopped
Here are a couple of basic chutney recipes that you can use as a template. Feel free to substitute the ingredients based on what you have, and don't worry if you don't have all the ingredients!
Epicurious – Fresh Peach Chutney
Food Network – Peach Chutney
Food.com – Peach Chutney
What's your favorite way to eat a peach?  Let us know your thoughts!