April is National Grilled Cheese Month! Grilled cheese is one of the easiest and best sandwiches to make, and there are countless ways to put some kind of cheese between two slices of bread, griddle or toast it until the cheese is nice and oozy and the bread is golden. You can add meat or vegetables if you like, or if you really want to get fancy, add jam or spreads to the grilled cheese.
But taking the words "grilled cheese" quite literally, there are also cheeses that are great just by themselves on the grill. They don't just melt into a pool of greasy cheese when heated, but instead get nice and charred on the outside while being slightly softened on the inside. These cheeses become starring ingredients in your recipes, versus just a supporting character, and are well worth searching out.
When selecting cheeses to grill, you want to look for cheeses that are firm, slightly rubbery, with a high melting point. They are generally made from goat or sheep's milk which gives the cheese a pleasantly earthy or funky (I like to call it "wooly" or "sheepy") taste. Good cheeses to try include: halloumi, palhais, queso blanco or queso panela, Brazilian queijo coalho, and a number of cheeses from various producers that are actually labeled on the package as "grilling cheese". To a lesser, but still delicious extent, you can also try: kasseri, and aged cheeses like Mahon or Provolone. Just be sure to keep a watchful eye while these cheeses are on the grill or you may end up losing the cheese to the grill!
As to what to do with the cheese once you grill it, here are some recipe ideas:

Grilled Palhais Salad with Watermelon, Arugula, and Balsamic Reduction
2 buttons Palhais cheese
1 bag prewashed arugula
Olive oil
1/2 small seedless watermelon, cubed
Fresh dill
Balsamic reduction
1.  Preheat a grill over low heat.
2.  Cut the cheese into rounds and set aside.
3.  Toss the arugula with a little olive oil, salt and pepper. Mound arugula on a plate, and place watermelon cubes around the arugula. Tear small pieces of fresh dill, and place around the plate.
4.  When the grill is hot, carefully place the cheese onto the hot grill. Grill just until starting to melt on one side, flip and grill on second side until cheese is gooey but still holding its shape. Remove from the grill and place on top of the arugula.
5.  Drizzle salad with more olive oil, a drizzle of the balsamic reduction, and some fresh cracked pepper. Serve immediately.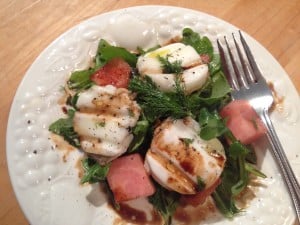 Grilled Halloumi Stuffed Pitas with Mint Oregano Rice
1/2 cup basmati rice (or other long grained rice)
2 tablespoons fresh mint, chiffonade
2 tablespoons fresh oregano, chopped
Olive oil
1 package halloumi cheese, cut into slices
1/2 red onion, sliced into large rounds
2 pita breads with pockets, cut in half
1 tablespoon greek yogurt
2-3 leafs of butter lettuce, torn
1 tomato, sliced
1.  Make the mint oregano rice by heating 1 cup of water with a pinch of salt in a shallow sauté pan.
2.  When the water is simmering, add the rice. Turn heat down to low, cover, and steam until rice is cooked, about 10 minutes. 
3.  Turn off heat, and add the mint, oregano, and a drizzle of olive oil to the rice. Stir to combine, and then cover and set aside.
4. Meanwhile, heat grill over medium heat. Drizzle the halloumi slices with a little olive oil. When the grill is hot, place the halloumi slices and red onion rounds onto the grill. Grill until slightly charred on each side, about 2 minutes each side.   Remove from heat.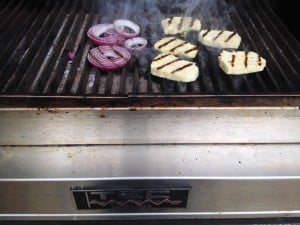 5.  Place the pita on the grill, and grill until warmed through and pliable. Remove from heat.
6.  To assemble the pitas: spread a little of the yogurt inside the bottom of the pita half, spoon in a little of the rice, the lettuce, tomato slices, red onion rounds, and then top with the grilled halloumi. Serve immediately.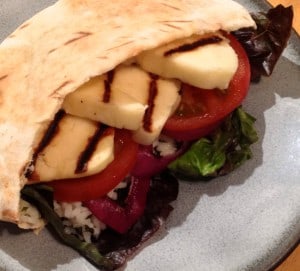 Grilled Aged Mahon with Eggplant, Zucchini, and Olive Salad
1 small eggplant, cut into long slices
1 small zucchini, cut into long slices
1 medium block aged Mahon cheese
Olive oil
Pickled olive salad
Marcona almonds
1.  Preheat grill over medium heat. Drizzle the eggplant slices and zucchini slices with a little olive oil, and season with salt and pepper.
2.  When the grill is hot, add the eggplant and zucchini to the grill. Grill until grill marks show on first side. Flip, and grill until grill marks show on second side, and vegetables are soft. Remove from heat and set aside.
3.  Brush the grill grates with a little olive oil. Add the Mahon cheese to the grill, and cook until slightly browned and melting on first side. Flip, and grill until cheese is starting to melt. Remove from heat.
4.  To assemble, layer the eggplant and zucchini with the cheese. Serve with your favorite pickled olive salad and marcona almonds.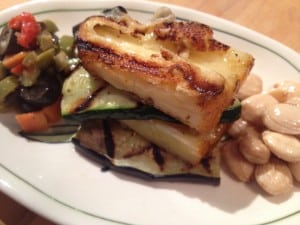 For more grilled cheese recipes, both traditional and not so typical, check out these other recipes:

http://www.foodandwine.com/slideshows/grilled-cheese
http://www.seriouseats.com/2014/07/best-cheeses-to-grill-halloumi-kefalotyri-queso-panela.html

http://www.thenibble.com/REVIEWS/main/breadstuffs/grilled-cheese-recipes.asp