With a juicy and refreshing fruit salsa, this recipe for TEC Grilled Swordfish with Peach and Watermelon Salsa will be your go-to summer supper.
Swordfish is a welcome change from the typical steak. But just like your favorite strip, it gets a kiss of smoky flavor while staying moist and juicy when grilled on your TEC Grill. The peach balsamic vinaigrette does double duty as a marinade for the fish. But also as a dressing for the salsa, bursting with fresh summer fruit like peaches, watermelon, radishes and blueberries. Serve any leftover salsa with chips and a crisp white wine!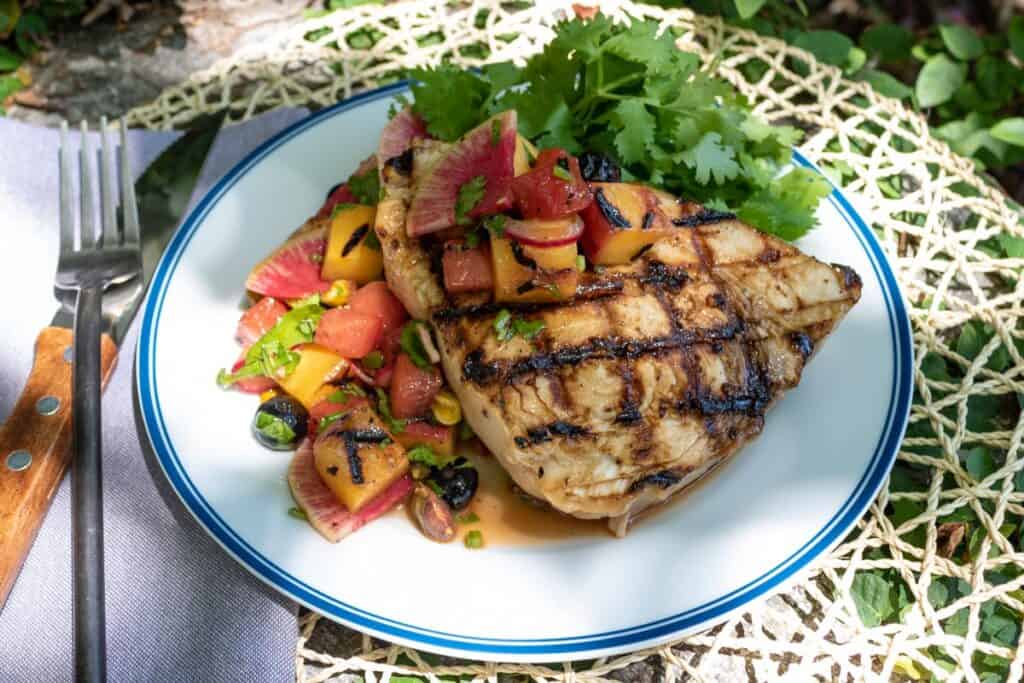 GRILLED SWORDFISH WITH PEACH AND WATERMELON SALSA
1/3 cup peach balsamic vinegar
Juice of 1/2 lime
1/4 cup red onion, thinly sliced
1/3 cup extra virgin olive oil, plus more for grilling
1 pound swordfish steaks
2 firm ripe peaches, sliced in half and pitted
1 cup watermelon cubes or wedges
1/2 small watermelon radish, quartered and thinly sliced
1/4 cup blueberries
1/4 cup pistachios
1/2 small jalapeno, finely diced (optional)
1/4 cup fresh cilantro, roughly chopped
Salt and pepper
Preheat your TEC Grill on medium heat with the lid closed for 10 minutes.

Place peach balsamic vinegar and lime juice in a measuring cup.

Add the red onion and let sit for 5 minutes.

Slowly drizzle in the 1/3 cup olive oil, whisking the entire time to combine.

Season to taste with salt and pepper. Set aside about 1/2 of the vinaigrette for the fish.

Place the reserved peach vinaigrette in a shallow dish. Add the swordfish steaks, and turn to coat with the vinaigrette. Let marinate while making the salsa.

Brush the peach halves and watermelon chunks with a little olive oil.

When the grill is hot, add the peaches and watermelon to the grill grates. Cook just until charred and starting to soften. Remove from the grill, and dice the peaches and watermelon.

Combine the peaches, watermelon, radishes and jalapeno (if using) in a medium mixing bowl. Stir gently to combine. Drizzle with just enough of the peach vinaigrette to lightly coat the fruit. Season with salt and pepper, and garnish with the cilantro. Set aside while grilling the fish.

Add the swordfish steaks to the hot grill. Grill on both sides until fish is opaque and cooked through, about 15 minutes (see our Cooking Times chart for more details).

Serve the fish topped with the peach watermelon salsa.