The new year is often a time to reset, renew, and revive after the holidays. For most people that usually means some kind of change to your eating habits. It might be simply cutting back on portions, or eating healthier foods including more fruits and vegetables. Or it could mean a full detox or Whole30 diet in order to reset your system. At TEC Grills, we always turn to our 100% infrared grills to help us with our resolutions.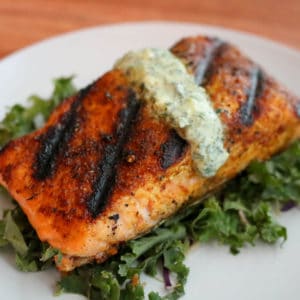 Why? Because grilling is an easy way to cook foods in a healthy and natural way. You don't need to use as much fat or oil to grill, and the grill grates let fats from the meat drain away. But you still get a lot of flavor in your food, especially when those drippings or marinades incinerate on the radiant glass panels. The liquid vaporizes creating a rich smoky cloud that gives your food that distinctive grilled flavor, but without the ashy or charcoal residue.
Our grills use 100% infrared heat, which totally eliminates the hot air associated with grilling. So food retains up to 35% more of its natural juices, so it stays moist, tender, and juicy. An added bonus is that grilling also keeps more vitamins and minerals in the food. Even meats like chicken or pork, which are notoriously dry when grilled, will be deliciously juicy when you bite into them. Add a low-fat marinade or sauce to your recipe, to amp up the flavor!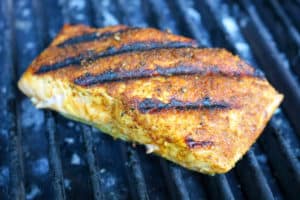 A lot of people think grilling is just for steaks or burgers. But you can grill just about anything, making it one of the most versatile cooking methods. At TEC Grills, we literally use our grills every day for breakfast, lunch, and dinner.   Think vegetables and fruit, seafood, smoked meats and fish, and even dessert. To make your meal as healthy as possible, choose lean fish or meats, and a variety of brightly colored fruits and vegetables.
One of our favorite healthy and super easy recipes is this Grilled Curry Salmon with Yogurt Mint Sauce. Serve it with this grilled asparagus recipe for a fantastic weeknight meal.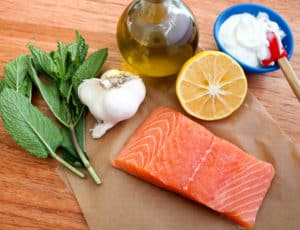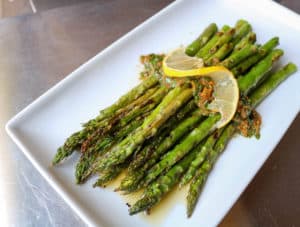 Grilled Curry Salmon with Yogurt Mint Sauce
Author:
Ingredients
4 tablespoons extra virgin olive oil, divided
1 tablespoon curry powder
4 salmon fillets
1/2 cup fresh mint, leaves picked off stems
1 tablespoon lowfat Greek yogurt
1 tablespoon fresh lemon juice
1 clove garlic, roughly chopped
Instructions
Mix together 2 tablespoons of the olive oil with the curry powder in a small bowl.
Rub all over tops of salmon fillets, and season with salt and pepper.
Place remaining 2 tablespoons of olive oil, mint, yogurt, lemon juice, and garlic in bowl of food processor. Process until smooth, adding more lemon juice or oil if needed to make a smooth sauce. Season with salt and pepper and set aside.
Preheat your TEC Grill on medium-high heat.
When the grill is hot, lay the salmon fillets on the grates, skin side up.
Grill for about 5 minutes, or until the fish easily releases from the grates.
Flip salmon, and turn heat down to medium. Continue grilling for another 5-8 minutes, or until the fish starts to flake.
Remove salmon from the grill, and serve with the Yogurt Mint Sauce.
What are your favorite healthy grilling recipes? Share with us on Facebook: TECInfraredGrills or on Instagram: @tecgrills or #tecgrills