Flank Steak is one of the most versatile and delicious cuts of meat. It is best when quickly cooked and served medium-rare, so grilling is a perfect way to cook this particular cut of beef. You get lots of good smoky flavor with a quick sear on your TEC Infrared Grill, making it a favorite of ours to throw on the grill anytime. Flank steak is kind of like the little black dress of meats, and can be prepared simply or dressed up for any occasion.
What to Look For

Coming from the belly or back end of the cow, flank steak is a long, flat, and thin piece of meat. It is typically used for dishes like fajitas and stir-fry. Since it comes from a part of the cow that gets a lot of exercise, the meat has a strong grain and fibers. It can be quite tough if over-cooked, and should be in order to make the meat more tender.
Marinating flank steak will also help tenderize the meat and add flavor. If you are cooking for a crowd, use a whole flank steak to feed everyone. Or if you are cooking for a few, cut the steak into halves or thirds and marinate each piece separately. You will have meals for days!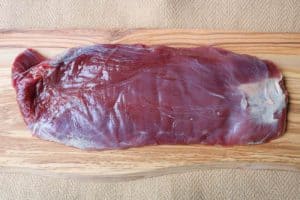 Choose the Marinade
Here are three really easy and versatile ideas for flank steak marinades that only have three ingredients, so you get a lot of flavor with very little effort. These recipes are geared toward a steak that is about 1/2 pound, so adjust accordingly. The best part about most marinade recipes is that you don't have to be too exact in measuring the ingredients!
The method of preparation is the same for all of the marinades. Simply place all ingredients in a shallow dish or bowl, and stir to combine. Add the flank steak to the marinade, and let soak for at least 30 minutes, and up to about two hours. Refrigerate the steak if you will be marinating it for longer than 30 minutes. Since flank steak is so thin, you don't want to let it marinate too long or the acid from the marinade will start to break down the fibers of the meat and cause it to turn gray and mushy.
Champagne, Shallot, and Dijon
1 cup Champagne or sparkling wine
1/4 cup Dijon mustard
2 shallots, roughly chopped or sliced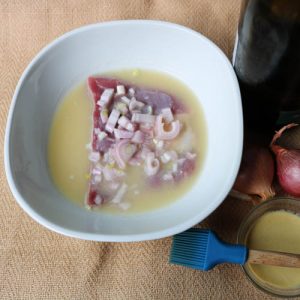 Tequila, Lime, and Cumin
1 cup Tequila
2 limes, zested and juiced
2 tablespoons cumin seeds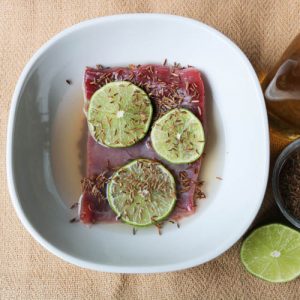 Soy, Garlic, and Brown Sugar
1 cup soy sauce
1/4 cup brown sugar
3-4 garlic cloves, peeled and thinly sliced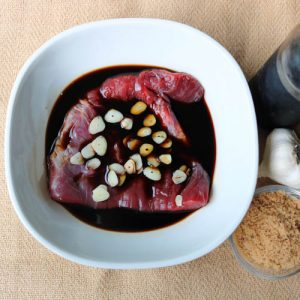 Grill It!
When ready to grill, remove the flank steak from the refrigerator if necessary. Preheat your TEC Grill over medium-high heat for about 5-10 minutes. Remove the steak from the marinade, and season all over with salt and pepper.
Place the steak on the grill (discard the marinade). Grill for about 5 minutes on each side, or until the internal temperature of the steak is at 130-135 degrees F for medium-rare.   Remove the steak from the grill, and let it rest for about 10 minutes. Remember to slice it against the grain for tender juicy bites.
Make it Saucy
You can serve flank steak straight off the grill with some grilled potatoes, warm tortillas, or on a hoagie roll. Or you can dress it up with one of these sauce combinations.
Cognac Tarragon Cream Sauce
Olive oil
1 shallot, finely minced
1/4 cup Cognac or brandy
1/2 cup chicken or beef stock
Splash of heavy cream
1/4 cup fresh tarragon leaves, roughly chopped
Sweat the shallot in olive oil until translucent and softened. Add the Cognac, and cook down until the liquid is almost evaporated, and the sauce is syrupy. Add the stock, and reduce again by half. Add the splash of cream and tarragon, and season to taste with salt and pepper.
Spoon the sauce over the Champagne marinated flank steak, and serve with grilled potato wedges.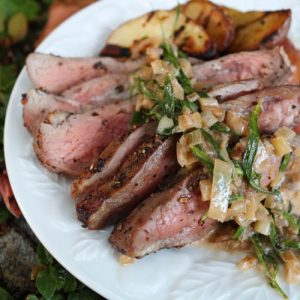 Cheese Sauce with Poblano Rajas
Olive oil
1 large red onion, peeled and thinly sliced
1 cup cremini mushrooms, sliced
2-3 poblano peppers, grill roasted, peeled, and sliced
Monterey Jack cheese sauce (or for a simpler version, just use 2 cups Jack cheese, shredded)
Saute the onion in the olive oil until caramelized and softened. Add the mushrooms, and sauté until browned and starting to get crispy. Add the poblano peppers, and season to taste with salt and pepper.
Make sure grill is heated to medium heat. Place the cheese sauce (or shredded cheese, if making the simpler version) in a cast-iron or grill-safe dish. Place the dish on the grill grates, and close the hood. Cook until the cheese is melted and sauce is bubbling, checking every few minutes. If desired, place the dish under a broiler for a few minutes to brown the top of the cheese.
Remove from the grill, and top with the Tequila marinated flank steak, and the poblano pepper mixture. Serve with tortilla chips or warm flour tortillas.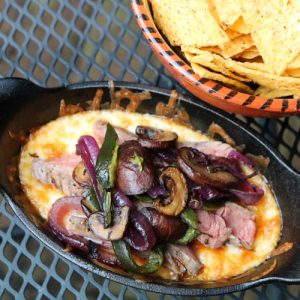 Carrot Ginger Sauce
1 carrot, peeled and grated
2 tablespoons fresh ginger, peeled and grated
1 clove garlic, minced
1/4 cup rice wine vinegar
1 tablespoon sesame oil
1 tablespoon Mirin or rice wine
Splash of lime juice
Whisk together all ingredients in a small bowl. Season with salt and pepper, and drizzle over the Soy marinated flank steak. Serve with grilled broccoli and steamed rice.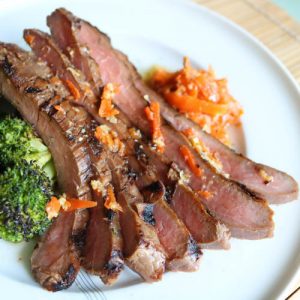 Want more recipe ideas for your next flank steak? Give one of these a try!
Food & Wine – Balsamic Marinated Flank Steak
Chowhound – Bourbon Marinated Flank Steak
Community Table – 12 Easy Marinated Flank Steak Recipes