This dish is a great way to take advantage of fresh summer vegetables. I had a hankering for gumbo when I saw beautiful okra for sale at a roadside vegetable stand, but it felt like a crime to boil the pods to pieces and overwhelm their flavor in tomatoes. The solution: deconstructed okra gumbo. Seasoned with traditional Cajun spices but skewered, the individual components all retain their own distinct character, and the grill really brings out the natural flavors in each.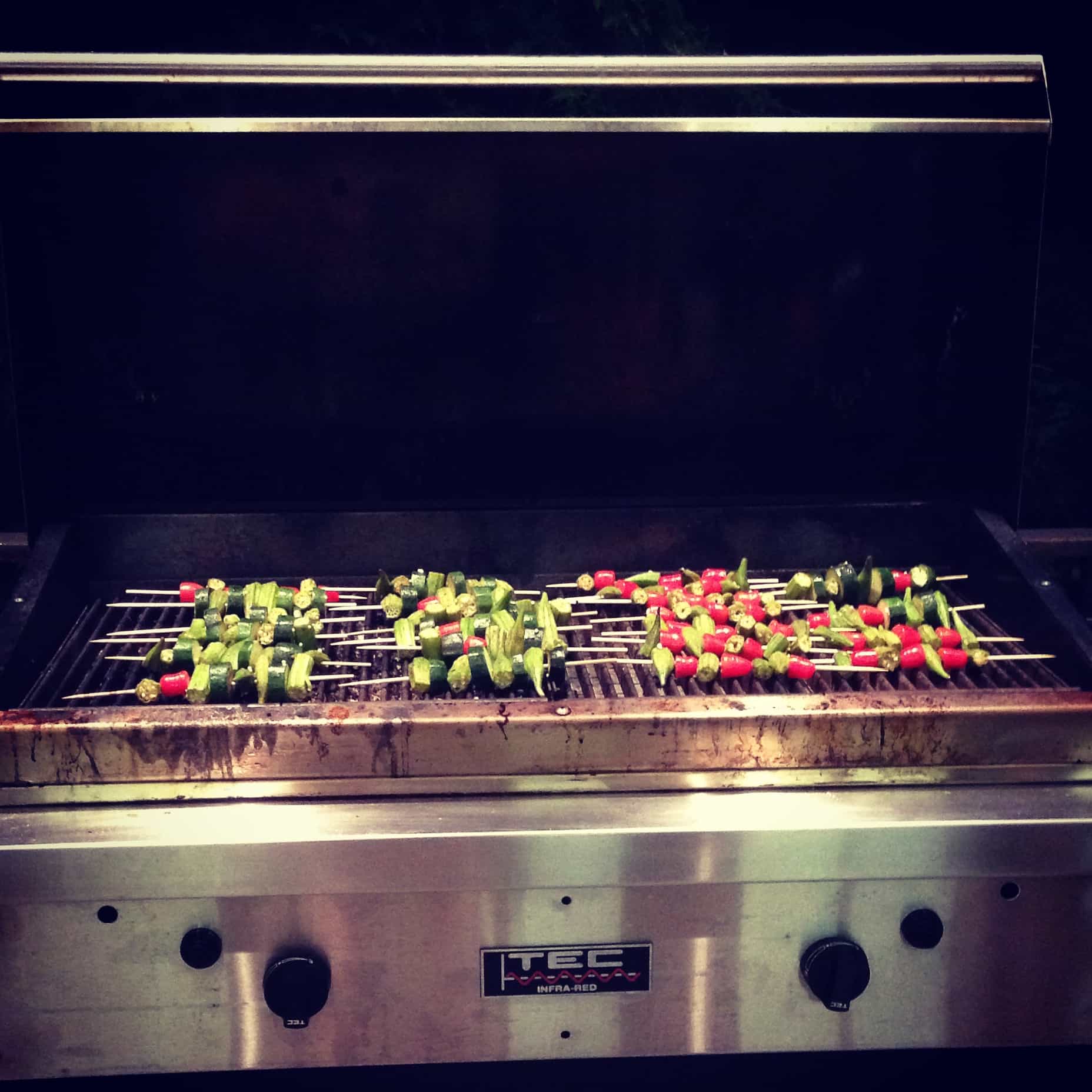 Gumbo On The Grill
Deconstructed Okra Gumbo Recipe
Prep time:
Cook time:
Total time:
You can include with kielbasa or not. We prepared for the vegetarians in the group, so these pictures do not include the kielbasa.
Ingredients
2 cups okra, fresh or frozen, cut into 1″ pieces
1 package grape (or other small) tomatoes, cut in half
1 round of kielbasa, cut into 1/4″ slices (optional)
3 tablespoons of olive oil
1 tablespoon of cumin
3 tablespoons of Old Bay seasonings
1 tablespoon of cayenne pepper
11/2 teaspoons of salt
Instructions
Preheat the grill on medium.
In a large bowl, whisk the olive oil and spices together.
Add the okra, tomatoes, and any other vegetables that you'd like to include.
Toss until well-coated with seasoned oil. Mix in sausage, and assemble skewers.
Grill for 11-12 minutes with the hood open.
Reduce heat to low, and flip the skewers.
Close the hood and allow to cook for an additional 5-7 minutes.
Be sure to remove the skewers from the heat before the okra begin to split.