Bob Dylan once said "Everything in New Orleans is a good idea." And when it comes to the food in this eclectic city, we have no argument there! New Orleans has a true blended cuisine, mixing smoked meats, seafood, spices and a myriad of cultural influences to create one of the most delicious food destinations in the US.
So we were very much looking forward to being in New Orleans a few weeks back for the HPBExpo, sponsored by the Hearth, Patio, and Barbeque Association. This four-day conference in the heart of New Orleans is a great way to meet colleagues and swap tips and tricks of the trade. And of course, a great way to dive into New Orleans Cuisine.
We are fortunate to have an amazing network of grillers that share delicious recipes and tips for cooking on a TEC Grill. While there, we met up with one of our dealers, Reggie Landry of Ferrell Gas in the Lake Charles, Louisiana area, and he was kind enough to share his favorite jambalaya recipe with us. Similar to paella, Jambalaya is a traditional one-pot meal of meat and rice.
Reggie makes his jambalaya using one of our favorite cooking vessels and a staple in New Orleans cooking – a cast-iron pot. He set the cast iron directly on the grates of his TEC Grill for a perfectly prepared classic. According to Reggie, folks in Louisiana are serious about their jambalaya! It can be made Creole style (that is, with tomatoes) or Cajun style (without tomatoes) – which is how Reggie prepares his version. Some make it with pork meat, others with chicken or shrimp. But most certainly it will have the "holy trinity", ie, onion, celery and bell pepper sautéed together as the aromatic basis of the dish. No Cajun cook would dare skip that step!
We loved learning a new dish to cook on our TEC Infrared Grills and we hope you'll try this authentic Cajun classic out for yourself.  Thanks to Reggie for sharing his recipe!
Here is the step-by-step: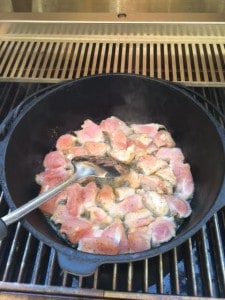 Start first by getting a medium cast iron pot nice and hot.  Add some oil to the bottom of the pan.  When oil is hot, add the pork meat and cook until it is a dark brown, stirring to get all sides brown.  Take your time here!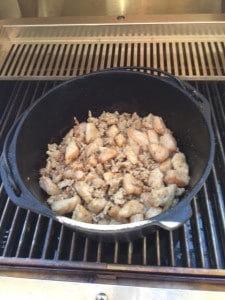 Add the ground pork, and make sure to stir it until nice and brown as well.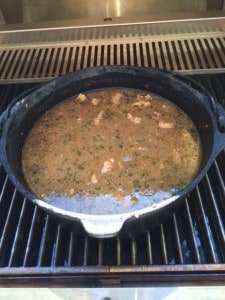 Add the rice and the water, cover it, and let cook on low.  Don't keep stirring the rice, though, or it will be mushy!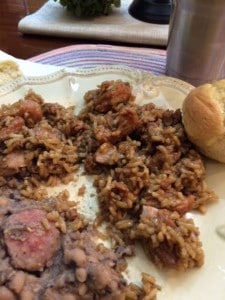 Here is Reggie's plated jambalaya with black-eyed peas and rolls.  You can see that it was so good, it was almost gone before he could take a picture!
What other kinds of things do you cook on your TEC Grill?  Let us know in the comments.
Reggie's Pork Jambalaya
Author:
Ingredients
2 lbs. center cut pork chops , cut into ½ to ¾ inch cubes
1 ½ lbs. ground pork
2 white onions
½ chopped celery
½ cup chopped bell pepper
2 cups of rice
Tony Chachere seasoning
Season pork meat with Tony's seasoning
4 cups of water
Instructions
Add cooking oil in the bottom of medium cast iron pot.
When oil is hot, add the pork meat and cook until it is a dark brown, stirring to get all sides brown.
About half way through cooking the pork meat, add the ground pork and make sure it is also cooked until brown.
Once the meats are cooked, add chopped onions, celery and bell pepper, stirring to make sure all vegetables are sautéed . Keep scraping the bottom of the pot to make sure you get all the brown bits from the bottom.
Once meat and vegetables are cooked, add rice to the pot and stir the rice to combine with all the other ingredients.
Add the water, making sure the water is at least 3 inches higher than the ingredients. Let water come to a boil, then turn down the grill to low.
Cover the pot, and let cook approximately 20 to 30 minutes, or until rice is cooked. You may stir one time while rice is cooking to make sure all the rice is cooked. But do not keep stirring cause it will cause rice to get mushy!
Once rice is cooked, serve with black-eyed peas and whole kernel or cream style corn on the side.