The humble cheeseburger gets a serious upgrade with this recipe for Bison Burgers with Balsamic Bacon Jam grilled on your TEC Grill.
Sweet and savory at the same time, the homemade bacon jam is the secret to these delicious burgers. Add to that a slice of blue jack cheese that adds a creamy tanginess to the juicy bison meat, and sandwich it all on a soft brioche bun brushed with Worcestershire mayonnaise. Burgers don't get better than this!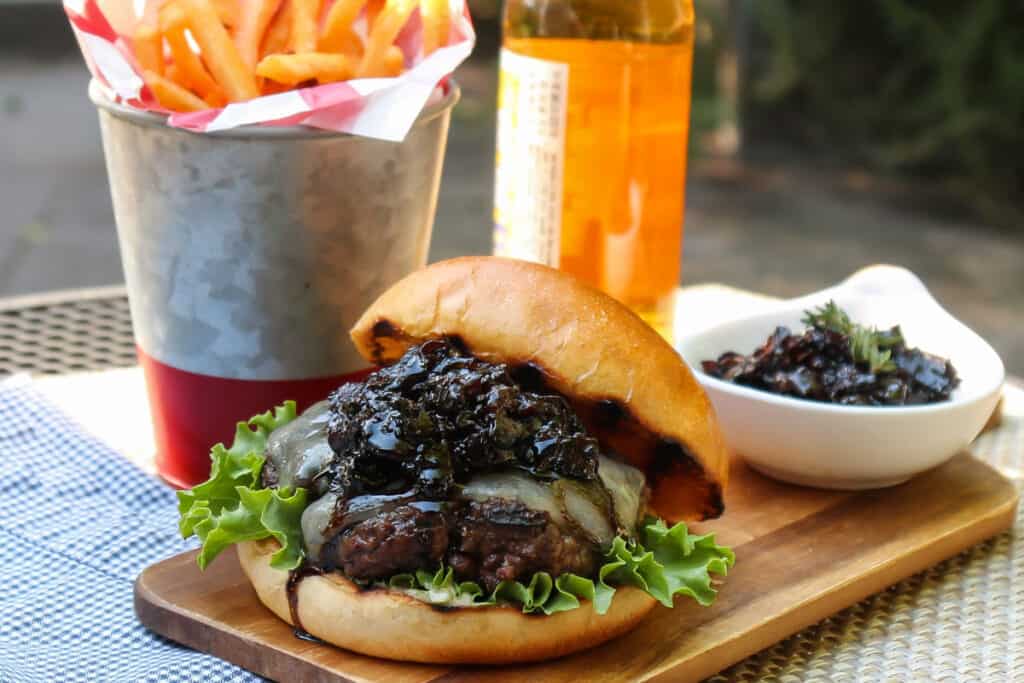 BALSAMIC BACON JAM
4 slices thick-cut bacon, cut crosswise into 1/4-inch strips
1 medium red onion, halved and sliced
1/2 cup balsamic vinegar
1 tablespoon brown sugar
1 teaspoon Dijon mustard
1 teaspoon fresh thyme leaves
Place bacon in a wide saute pan over medium heat. Cook until light brown and crispy, about 5 minutes. Use a spatula to remove bacon bits from the pan and set aside on a plate. Do not wipe out pan.

Add the onion to the pan, and stir to coat with the bacon fat. Cook until starting to brown at the edges and softened, about 10 minutes.

Add the bacon back to the pan along with the balsamic vinegar, brown sugar, mustard and thyme and stir to combine. Bring to a simmer and cook until liquid is evaporated and syrupy, about 10 minutes longer. Season with salt and pepper and set aside while making the burgers.
BISON BURGERS
1 pound ground bison
Salt and pepper
1/4 cup mayonnaise
1 teaspoon Worcestershire sauce
4 slices jack blue cheese, such as Boars Head MarBleu
4 brioche buns
Lettuce
Preheat your TEC Grill on medium heat with the lid closed for 10 minutes.

Form ground bison into 4 patties, and season all over with salt and pepper.

Stir together the mayonnaise and the Worcestershire sauce in a small bowl. Set aside.

When the grill is hot, lay the patties on the grates. Grill for 3 minutes, just until you see grill marks.

Flip the burgers and top with a slice of the cheese. Close the lid and continue grilling until the cheese is melted and the burgers are cooked to your desired internal temperature.

In the last few minutes of grilling, add the buns to the grill and lightly toast.

Remove the burgers and buns from the grill. Spread some of the mayonnaise mixture on the bottom buns. Top with a piece of lettuce, a burger, some of the balsamic bacon jam and close with the top half of the bun.