At TEC Grills, we look forward to the Fall season all year long! While in other parts of the country it might start to get a little chilly this time of year, here in South Carolina (the home of TEC Grills), we appreciate a little bit of coolness after our long hot and humid summers. Fall is also the kick off to tailgating and oyster roast season, which are cherished Southern traditions. It is also the time for Oktoberfest, and what better way to celebrate all of these occasions than by grilling these Beer Bratwurst Sandwiches with Grilled Cabbage and Onion Slaw at your next gathering?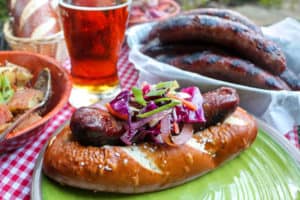 WHAT TO LOOK FOR
Bratwurst sausages are available year-round in markets. Bratwurst is a traditional German sausage that is typically made with veal, beef, and/or pork. They are typically served as a common street food snack.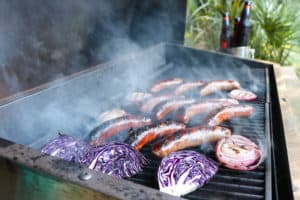 You can find fresh Bratwurst sausages (that is, not cooked), or already cooked. If you are in a hurry, grab the already cooked ones and throw them directly on the grill. But if you have the time to braise them in beer first, it is definitely worth the little bit of extra effort. The beer keeps the sausages plump and tender, while giving them that characteristic malty flavor.
There are a few ways you can serve Bratwurst. As a main dish, you can pile the grilled sausages on a plate with sauerkraut, mustard, and potato salad. Or you can nestle them into a soft roll, preferably a pretzel roll, topped with a homemade grilled cabbage and onion slaw. Serve the sausages alongside some mustard and bacon German potato salad. That's how we like it!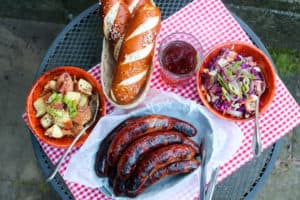 BRAISE AND GRILL THE BRATWURST
You can certainly boil the brats on the stovetop. But don't forget that you can use your TEC Grill as a wind resistant burner, and place the pot directly on the grates. That way, you won't miss a minute of being outside in the beautiful Fall weather!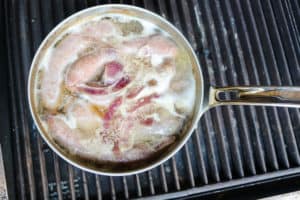 Preheat your TEC Grill on high heat with the hood closed for 10 minutes.

Pour 2 cans of lager beer into a stockpot. Add a roughly chopped onion, 2 cloves of garlic, and 1 tablespoon mustard seeds.

Add the bratwurst to the pot, and arrange so that they are submerged in the beer.

Place the stockpot on the preheated grill, and bring to a simmer. Cook for about 10 minutes, until sausages are cooked through.

Remove the stockpot from the grill, and let the bratwurst soak in the liquid for about 15 minutes.

Meanwhile, turn the grill down to medium heat, and make the Grilled Cabbage and Onion Slaw.

When ready to grill the bratwurst, remove them from the beer and place on the hot grill. Grill, turning occasionally, until browned all over about 5-10 minutes.
GRILLED CABBAGE AND ONION SLAW
Canola oil
1 large onion, sliced into large rounds
1 small head purple cabbage, cut into wedges
2 cups pre-cut coleslaw mix
1/4 cup apple cider vinegar
1/4 cup olive oil
1 teaspoon fennel or caraway seeds
Pretzel buns
Grainy mustard
Drizzle some canola oil over the onion and cabbage.

Grill the onion and cabbage over medium-high heat until softened and charred in spots, about 10 minutes. Remove from the grill, and roughly chop.

Place the grilled onion and cabbage in a mixing bowl with the coleslaw mix.

Whisk the apple cider vinegar, olive oil, caraway and mustard seeds in a small bowl. Season with salt and pepper.

Drizzle the dressing over the vegetables, and toss to combine. Let sit for about 10-15 minutes while grilling the bratwurst.

Lightly toast or grill the buns. Place a sausage in the bun, and top with a handful of the slaw and more grainy mustard.
What's your favorite way to celebrate Fall? Share with us by tagging your pics with @tecgrills!