You know it's easy to smoke ribs, brisket, chickens and more on the TEC Infrared Smoker/Roaster. But did you know that you can also add that same mouth-watering smoky flavor to just about anything you throw on the grill? Smoky flavor translates well to things like cheese, nuts, fish and vegetables too. Read on for six things to try smoking on the Smoker/Roaster.

Constructed of the same high-quality, durable stainless steel as our grills, the TEC Smoker/Roaster accessory uses infrared heat to keep your smoked meats juicy and tender.  With a custom radiant drip tray beneath the elevated rack, excess fat drips off while keeping your grill clean.  And our wood chip corral keeps the chips in the proper place for even smoking and cleanup. It holds up to 5 cups of chips with no need to presoak the chips.
The bonus is that there is no need for a separate rotisserie that requires power to your grill, or the need to purchase a separate piece of equipment. The Smoker/Roaster is available for the Sterling Patio FR, Patio FR grill and G-Sport grill, and adds even more versatility to the grill that does everything better.
FISH AND SHELLFISH
You are probably familiar with smoked salmon, but other types of fish also hold up well to smoking. Try mahi-mahi, trout, swordfish, tuna or any other firm fleshed fish. Placing the fish on a wood plank adds even more smoky flavor to the fish, and gives you an easy way to lift the fish right off the Smoker/Roaster.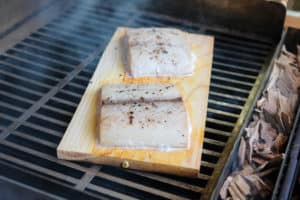 In the South (the home of TEC Grills), oyster roasts are a popular fall and winter event. We found that the Smoker/Roaster is an excellent way to steam roast oysters. The Gator Rack, which is a double version of the Smoker/Roaster, can hold up to a half a bushel of oysters to roast at one time. Add a little smoke to the oysters as they roast for even more flavor. We think these are the best tasting oysters you will ever eat!

BREAD AND CINNAMON ROLLS
If you have never tried smoked bread or cinnamon rolls, you are in for a treat! Just a touch of smoke will turn your favorite breakfast bread into a special treat. Just add some chips to the chip corral as the bread is baking for just a kiss of smokiness.
For smaller items like cinnamon rolls, it helps to use our Infrared Grill Tray on top of the Smoker/Roaster because the slots are thinner. Or you can just place the bread or rolls on the warming rack too, and place chips directly on the grill grates. Watch this video from our friends at The BBQ Guys to show you how.
VEGETABLES AND FRUIT
Vegetables, and even some fruit, take on smoky flavor very easily and quickly. The nice thing is that you can smoke a lot of things all at once, and then use them for a variety of recipes. The key is to not smoke the vegetables for too long, just until they are softened but not mushy. So if you're smoking a wide variety at one time, just keep watch and remove the various vegetables as soon as they soften.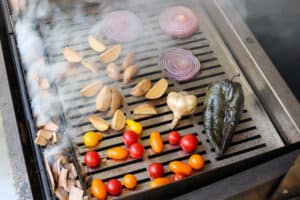 Try smoking tomatoes, peppers and onions to make a salsa. The onions and peppers can smoke for about 30 minutes, but the tomatoes only need about 15 minutes on the smoker.
Or try smoking potatoes to make a smoked potato salad. If you have large potatoes, you might need to pre-cook them for about 10 minutes to soften. But smaller pieces can just be placed directly on the Smoker/Roaster or the Grill Tray. The bonus is that the infrared heat will make the outside of the potatoes crispy, while the inside stays fluffy.
Another vegetable that tastes great when smoked is fresh corn on the cob. Start with about 10 minutes of smoking, and then finish the corn with a quick sear on the grill. Eat the corn right off the cob, or use it to make a corn salad.
COLD-SMOKED CHEESE
It seems counter-intuitive to smoke something that will melt when heated, but smoked hard cheeses like Gouda, cheddar and jack work beautifully. The key is to use the cold smoke technique, and it doesn't take long to infuse smoky flavor into the cheese.
Heat the grill over medium-low heat, just until the chips start to smoke. Then turn the grill down to low. Place the cheese on a rack set over a pan filled with ice, and then place on top of the Smoker/Roaster. Do not close the hood! Smoke the cheese for about 20-30 minutes, just until the cheese slightly softens. Add more ice to the pan as needed.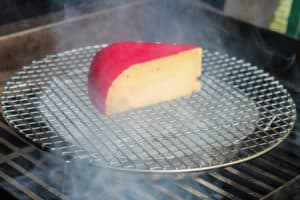 Smoked cheese is delicious simply sliced. But also try it melted in a fondue, or as a sauce over baked potatoes and broccoli. But it is especially delicious when used in your favorite mac and cheese recipe.
EGGS
The next time you make deviled eggs or egg salad, try it with smoked eggs for an unexpectedly delicious twist. The porous white part of the egg absorbs smoke flavor very easily. You will need to hard boil the eggs first, and then peel them after boiling. Then simply place on the Smoker/Roaster for about 30 minutes over low heat.

NUTS
For an addictive snack, try smoking your favorite nuts. Almonds, cashews, pecans and walnuts all taste even better with smoky salty flavor.
Place nuts in a foil pan or on a sheet tray on top of the Smoker/Roaster over low heat. Be sure to watch the nuts so they don't burn, and stir them often to roast evenly. It will only take about 15 minutes to roast the nuts and add some smoky flavor. You can add other flavorings to the nuts as well. Try adding curry powder and a little brown sugar to cashews. Or add a little cinnamon and white sugar to almonds.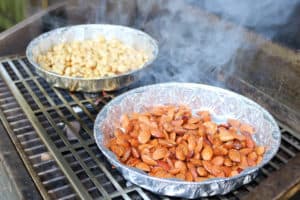 What have you tried smoking on the Infrared Smoker/Roaster? Share with us by tagging your pics @tecgrills.