The Infrared Pizza Oven Rack accessory turns your TEC Grill into an infrared oven. So not only can you grill pizza as you may expect, but also bake just about anything on your grill too. It's available for the Sterling Patio FR and Patio FR grill, and adds even more versatility to the grill that does everything better.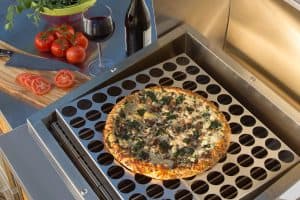 What makes the TEC Infrared Pizza Oven Rack so unique is our 100% infrared heat. We discovered that infrared heat makes a pizza crust crisp but does not dry it out. Our 304 stainless steel, infrared rack raises the cooking surface of the pizza above the grates to slow down the cooking process so that the crust and top of the pizza cook evenly. The large open area of our perforated cooking surface allows the maximum amount of infrared heat to reach the food, which results in the outside getting nice and crispy while the inside stays moist and juicy.
Once we saw how great pizza turned out on the rack, we knew it would work just as well for so many other foods. We've been trying out different things ever since, and have loved eating the results. Here are some of our favorite things to grill on the Infrared Pizza Oven Rack.
PIZZAS, FLATBREADS AND FOCCACIA
Of course, the obvious thing you can make on the Infrared Pizza Oven Rack is pizza! Try using fresh dough, flatbread, or making it in a pan. Or simply grab a frozen pizza from the store. Any way you grill it, your pizza will come out perfect every time with a crispy crust and juicy toppings.
To learn how to use the Infrared Pizza Rack to make pizza, be sure to read our Introduction to the Pizza Rack article. Also watch the videos for the step-by-step directions. If you're looking for pizza inspiration, check out these recipes.
  
BISCUITS, BREAD AND CINNAMON ROLLS
Given how delicious pizza dough turns out on the Infrared Pizza Oven Rack, it's not surprising that other breads are perfect when cooked on it too. Try fresh or frozen biscuits, rolls and cinnamon rolls. If you're using frozen dough, you can place it directly on the rack. If you're using fresh dough or small pieces of dough, you might want to put them on a sheet of parchment paper or on a sheet pan.
But you can also bake loaves of bread on it with the help of the TEC Infrared Meatloaf Pan. Once again, you will find that the outside of the bread gets a nice golden brown crispy crust, while the inside is light, fluffy and not dried out.
 
COOKIES, CAKES, COBBLERS, PIES AND BROWNIES
You might be surprised to know that you can also bake all kinds of desserts on the Infrared Pizza Oven Rack too. Think of it as your new outdoor oven, and use it just like you would use the oven in your kitchen. We have tried baking just about everything on the Pizza Rack, think cakes, cupcakes, brownies and also things like cobblers, crisps and even pie. Just make sure that you use a metal or cast iron pan for baking, and not a ceramic pan.
But the staff favorite dessert are cookies on the grill. From chocolate chip to oatmeal to white chocolate macadamia, a batch of hot cookies do not last long with our team! You're going to find that they are a little crispy around the edges, but soft and chewy inside. Use a cookie sheet or piece of parchment to hold the cookies so that they don't fall through the holes of the rack.

FRIES, POTATOES, EGG ROLLS AND ONION RINGS
What else tastes really good when crispy on the outside, but soft and tender inside? All kinds of fried things! So the next time you are thinking of pulling out a fryer or a messy pan full of oil, pull out your Infrared Pizza Oven Rack instead. We've already said it, but infrared heat really works wonders on these kinds of foods by crisping up the outside while keeping the inside moist and juicy. No oil required!
For smaller items like French fries, you might want to put them on piece of parchment or on a sheet pan so they don't fall through the holes of the rack. For larger things like egg rolls, you can put them directly on the rack.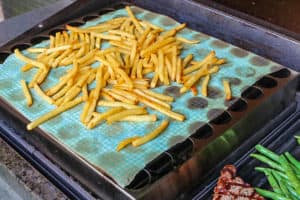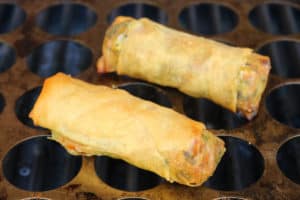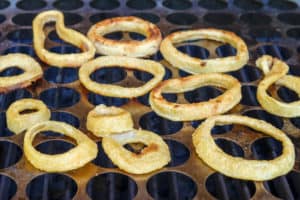 What have you tried making on the Infrared Pizza Rack? Share with us by tagging your pics @tecgrills.